It's almost instinctive these days to whip out your phone and snap a picture whenever you see something cute.
That's obviously going to happen when you come across an adorable animal - you apparently get extra points if you can get a selfie with them.
However, apparently this close proximity to these animals is doing more harm than good.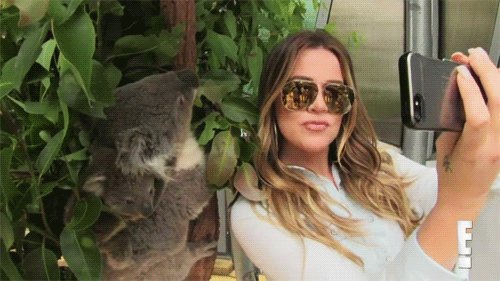 Image result for khloe kardashian selfie koala

Experts who attended the International Penguin Conference in New Zealand over the weekend agreed that getting selfies with animals is dangerous.
Professor Philip Seddon, the director of Otago University's wildlife management programme, said: "We're losing respect for wildlife, we don't understand the wild at all.

"The trouble with wildlife selfies is the images are often appearing without any context - so even if the message is promoting conservation or an ambassador programme, that message is lost and all people see are someone hugging a penguin, and want to do that too.

"We have an increasingly urbanised population around the world who are alienated from the natural world and whose access to wildlife is commodified and sanitised and made safe. So we're seeing these very strange behaviours that seem weird to us as biologists - such as posing your child on a wild animal."
According to the Guardian, Professor Seddon has banned his students from taking selfies when they're on assignment studying different animals.
He fears that these types of pictures just add fuel to the fire and worsen the situation.
There are plenty of places around the world where you can interact with animals in the wild like Flamingo Beach in Aruba, the cows that chill in India or quokkas in Australia.
There has reportedly been a near 300 per cent jump in the number of animal selfies between 2014 and 2017. It's not hard to imagine why: animals are cute and getting up close and personal with them surely will lead to more likes and comments.
Researchers at World Animal Protection released a report two years ago which found that around 40 per cent of these photos were listed as 'bad', which involves someone hugging or inappropriately touching an animal.
The report added: "Using a wild animal as a photo prop in a wildlife selfie can inflict stress and suffering on the animal, robbing them of their freedom and encouraging contact with humans that makes their chances of survival back in the wild much harder.
"Behind the scenes these animals are often beaten into submission, taken from their mothers as babies and secretly kept in filthy, cramped conditions or repeatedly baited with food that can have a long term negative impact on their biology and behaviour."

So take that in mind next time you see an animal.