An RAF airman left his job and decided to travel the world after the death of several important people in his life.
So he sold nearly all of his possessions and set off around Europe in a camper van with only his best friend for company.
Incidentally, his best friend is Bandit, his rescued pet ferret.
It's fair to say that 25-year-old Charlie Hammerton had been having a rough time of it.
Within the space of a year he lost his best friend, his mother, and his adopted mother. It was all getting a bit much for him, so he decided to make a change.
With that in mind, he set off on a trip around 11 countries over eight months with his 'best pal' in tow.
He quit his job in the armed forces, sold his three cars and some other possessions, and raised £15,000 to buy a camper van for the journey.
Their tour took them from the south of Italy to the north of Norway, and pretty much everywhere in between.
Along the way, he made sure to take a load of shots of his beloved ferret friend in a variety of iconic locations.
Charlie, from Falmouth, said: "Travelling was the most amazing experience of my life and it was completely liberating.
"We followed the sun across the world and camped under the stars in amazing places.
"It was beautiful and I spent it with my best friend.
"I have less money now but I am much wealthier as a person."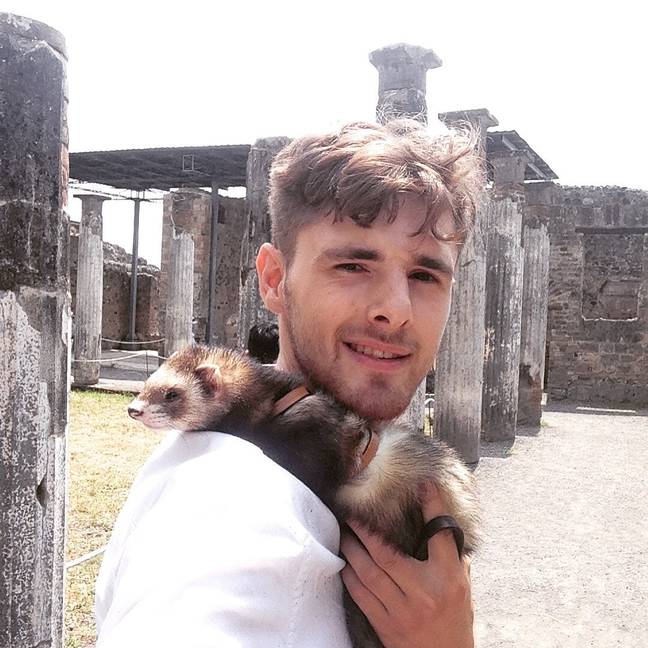 The unlikely travelling companions met when Charlie rescued Bandit from an animal sanctuary back in 2015.
Since then, they've been inseparable. Bandit even slept in his bed at the military base where he worked.
When his mum Jan died aged 53 from motor neurone disease in 2017, followed by his best mate Will Moss at just 22 after a night out, and his adoptive mum Samantha of a heart attack, Charlie's life was at a low ebb.
He explained: "It was horrible for me but I didn't want to get into a rut because of it all.
"I did think about killing myself a couple of times. I didn't know where to turn.
"It took a lot of courage for me to do what I did. At the time I was living in a nice flat, had a good job and had three cars.
"I had a lot of savings behind me and I was lucky enough to be very secure.
"But it was all just 'stuff' to me and didn't really mean anything.
"I decided to get rid of the lot - and set off with Bandit."
He continued: "We visited some incredibly scenic places and camped next to some of the most famous places in the world.
"It was incredible to do it with Bandit. He has seen me at my best and my worst and has always been with me.
"Bandit has been with me through thick and thin."
On the trip, the pair took in Scotland, Holland, Germany, Sweden, France, Spain, Norway, England and several other countries. He's now written a book, entitled Before Our Adventures, which outlines his desire to turn a terrible situation around.
He added: "The trip was completely liberating and I really did have an amazing experience.
"I needed to just go out and do something for me.
"The book is all about how you can take anything bad and turn it into something really good - everyone has the right and the ability to do that.
"It's easy to get stuck in a rut but there's no need to. I feel so much better for what I did.
"I went through a really rough time and developed serious depression. I felt suicidal and just didn't know what to do with myself.
"A chain of bad things had happened to me and I had good reason to feel really miserable about my life, but I decided that was not what I wanted to be, I didn't want this to define me.
"I sold the lot and just took off. It was the making of me.
"I channelled the negative energy and turned it into something positive."