Sportsbet Estimated To Lose $5 Million After Paying Out Early For People Who Voted Labor
In the weeks leading up to Australia's federal election, exit polls predicted Labor would win. Many surveys showed it was going to be a tight race, but Bill Shorten's party would end up taking home the bacon at the end of the night.
If we've learned anything from Donald Trump or Brexit, it's to not rely so heavily on these polls as they can sometimes turn out to be wrong. But that didn't stop Sportsbet from paying out early for people who voted for Labor to win the election.
The betting agency started paying people a whole two days before Saturday's poll. There's a saying about counting chickens early that Sportsbet should have considered.
The Age estimates the company will lose a whopping $5.2 million because of the bungle. Not only did they pay out to Labor betters, but obviously had to cough up when the Liberals eventually won.
Sportsbet spokesman Richard Hummerston told the newspaper: "We paid out $1.3 million early to punters who backed Labor early, but on top of that we obviously have a massive payout on the Coalition which will be at least three times that figure.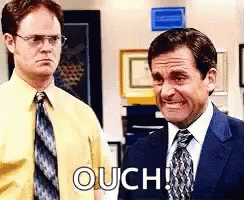 Image result for ouch gif

"Seventy per cent of the cash staked before the early payout had come for Labor, our punters had called the election early. We thought we'd simply give them their cash early.
"The quality of toilet paper and stationery will need to be significantly decreased at the Sportsbet offices to cover these costs and we can only keep the heaters on for two hours a day, but in the end, we have a result where most of our punters on a market are winners."
What's fun to see is how self-deprecating the company is after the mishap. They've been going hard on social media, admitting the mistake and running a mile with it.
But if you think the early payout was bad, remember this is a company. Spare a thought for the confident punter who placed a staggering $1 million on Labor to win the election.
The anonymous punter from New South Wales placed the bet after Bill Shorten launched a scathing attack on the Daily Telegraph for a hit piece against his mum.
Many thought that was the moment that pushed Shorten and Labor in front of the Coalition and clearly one person thought it was the election winning moment.
Featured Image Credit: PA
Topics: Funny, Australia, politics