Pornhub Tweeted The Perfect Response To 'Fortnite' Servers Crashing
Unless you've been up all night frantically refreshing Twitter to see if Fortnite is back up, you might have missed the news earlier that it has completely crashed.
Yes, the world's most popular multi-player battle royale game is experiencing server problems and has been down for 'emergency maintenance' since the early hours of this morning.
However, what is bad news for Fortnite is not bad news for everyone, it seems.
Since the game went offline it appears as if everyone who would otherwise be floating around in the Fortnite universe has logged online for a completely different form of 'entertainment'.
The world's biggest porn site, Pornhub, released a cryptic tweet earlier on that quoted Fortnite's tweet about their server crash and suggested that they have been seeing a huge increase in traffic since the game went down.
In response to Fortnite's tweet that said: "We're bringing the servers offline for emergency maintenance. We apologize for this inconvenience. We currently have no ETA on when servers will be back up."
Pornhub's official Twitter replied: "Please hurry or our servers will crash next."
It could just be a harmless bit of a joke, poking fun at the stereotype of gamers also being compulsive masturbators, but it could also be backed up by real life data - we just don't know.

It suggests that after being denied their favourite game to play, the gamers simply put down their joypads and picked up their - well, you get the idea.
Bizarrely enough, this isn't the only piece of Fortnite-related porn news to emerge recently.
Back at the end of March, the Pornhub insights team released information that stated that searches on the site for Fortnite related porn had increased by 824 percent - which is a lot.
Apparently, this massive spike happened in direct correlation with the live stream in which hip-hop star Drake played the game on Twitch with popular gaming streamer Ninja.
The insights team said: "Fortnite's biggest search increase occurred on 15 March after Drake played the game live on Twitch,
"Not only did it break records for concurrent Twitch views, it caused searches on Pornhub to increase 824 percent above average."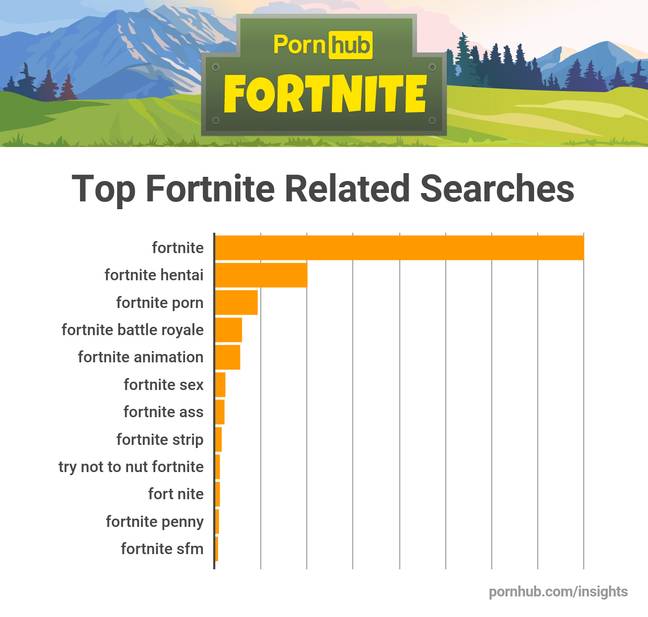 It's not just Fortnite either, it would seem. The Pornhub insights team continued: "By looking at what users typically search before or after searching Fortnite, we can start to see a game related trend develop.
"The most common search during the same user session is Overwatch, followed by Team Fortress 2 and video game. Other games being searched Minecraft, Pokemon, Rainbox Six Siege and Fortnite's rival platform, PUBG (PlayerUnknown's Battlegrounds).
It turns out not all stereotypes are bad - some are just accurate.