Elon Musk's Net Worth Is Now As Much As Bill Gates And Warren Buffett Combined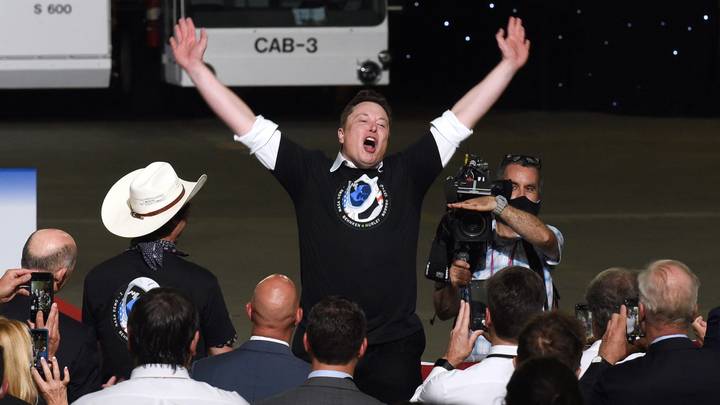 Not only is Elon Musk worth a lot of money, he's so rich his wealth exceeds the net worth of fellow billionaires Bill Gates and Warren Buffett combined.
That's right, the 50-year-old SpaceX CEO is worth a staggering $236 billion (£171 billion) which is the same as the 65-year-old Microsoft founder AND 91-year-old American businessman Buffett put together.
The new figures come from Bloomberg Billionaires Index, which revealed that Gates is sitting in fourth place on the richest of the rich list with $130 billion in the bank, while Buffett comes in at number 10 with $103 billion.
So actually, putting them together - Musk is worth not equal but even more with an extra three billion in the bank.
Back in January this year, Musk overtook Jeff Bezos to become to richest man on the planet. At the time he was worth $188bn thanks to an increase at the time in Tesla's share price.
Commenting on the incredible feat, he took to Twitter and simply wrote: "How strange," with another message reading: "Well, back to work..."

After taking the title, he slumped back into second place when Tesla shares dropped by 8.6 percent.

Now, however, he's back up in pole position with the Bloomberg Billionaires Index showing that Musk is worth $236bn while Bezos has a net worth of $197bn.
Underneath the pair is Bernard Arnault - a French businessman and CEO of Louis Vuitton.
After passing Bezos once again, Musk put plans in place to send a permanent reminder to his rival, in the form of a silver medal and statue.
In an email, Musk said: "I'm sending a giant statue of the digit '2' to Jeffrey B., along with a silver medal."
This isn't the first time Musk has taken a pop at his Amazon counterpart, either.
When Bezos protested against NASA's decision to award Musk's SpaceX company a $2.9 billion contract for a mission to take humans to the moon, Elon tweeted: "Can't get it up (to orbit) lol."