Lewis Capaldi Wins Feud With Noel Gallagher After Appearing In Chewbacca Mask At Festival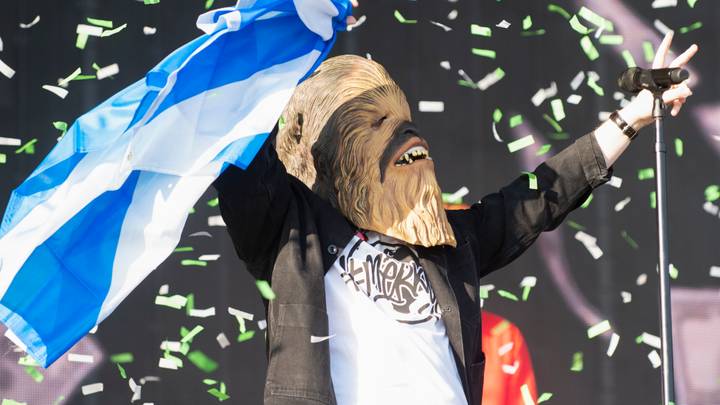 Lewis Capaldi has won the feud with Noel Gallagher again by appearing on stage at TRNSMT Festival in a Chewbacca mask.
The former Oasis member slagged off the Scottish singer this week in an interview with Variety, in which he said: "F***ing Chewbacca should enjoy his 15 minutes."
Well, Capaldi has donned the Chewbacca mask in front of his adoring fans and even sang 'Don't Look Back In Anger', but changed the lyrics to 'Don't Chewbac In Anger', according to the Times' Ally Farrell.
Gallagher certainly made his feelings about Capaldi clear in the Variety interview.
"The greatest day of his life that I slagged him off or called him an idiot. It's the greatest day of his f***ing life so far.
"He's just thinking, 'Wow!' Well, I know you're Scottish and all that, but f***ing hell! It is like a third world country, but for f***'s sake, man, you must have had a better day than this. Surely!"
Unsurprisingly, it didn't take the 22-year-old long to respond to the comment, with the singer evidently determined to extend his '15 minutes' with Noel as long as possible.
Followers of the musician on Twitter will see that 'Lewis Capaldi' is no more; rather, 'Chewis Capaldi' has taken his place.
He's also clearly a dab hand on Paint, having quickly whipped up an impressive new profile picture.
This whole feud started when Gallagher revealed that he doesn't quite like some of the music that's being produced by kids these days.
Gallagher said: "It just seems to me that every singer-songwriter gets to be s****er than the next person. It's a race to the bottom. And you dig deep enough with these c***s, they're not even singer-songwriters, because they don't f***ing write their own songs.
"So, I don't know. The youth of today: f**k*ing moronic c***s, if you ask me. I meet young people, and they're so culturally lost at the moment.
"All they can do, young people, is take pictures of each other. Because there's nothing else. You know, when a band walks out on stage, they might as well be at a photo shoot. Nobody lives in the moment."
You'd think a sting like that would hurt you, but Capaldi took it in his stride and said it was bloody awesome.
He said: "F***ing peaked. Being slagged off by Noel Gallagher. F***ing c'mon!
"Number one single - who gives a f***? Number one album - who gives a f***? Noel Gallagher has just slagged me off. This is dreams coming true.
"It's Father's Day, I'm being slagged off by a man who is old enough to be my da and I've never been more happy. I've never been more happy. Happy Father's Day, Noel."