In one of the most unusual celebrity friendships since Snoop Dogg and Martha Stewart, Scarlett Moffatt revealed that she's pals with Tom Hardy.
Yep, the former Queen of the Jungle has previously said she and Tom struck up an unlikely friendship and he's even invited her 'round to his place to play chess.
Scarlett said she was initially left feeling slightly star struck when she met the Bronson star, but was then shocked when he told her he and his wife were fans of hers having seen her I'm A Celebrity... Get Me Out of Here!

But Scarlett worried their burgeoning friendship was over before it began after she made a bit of a faux pas sending him a text meant for her mother.

Speaking on the How To Fail With Elizabeth Day podcast last June, the former Gogglebox star was asked by the host if she'd ever felt 'star struck' when meeting someone super-famous.
Scarlett said: "I think the time when I really got freaked out was when Tom Hardy came up to me and said, 'Scarlett, can I have a photo?'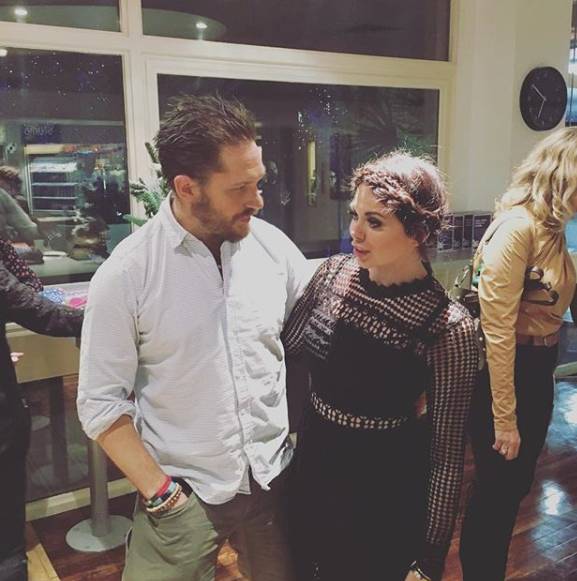 "And I went, 'What?!? Do you want me to take a photo of you?' And he said, 'No, me and Charlotte [Riley, Tom's wife] watched you in the jungle and we loved you in Gogglebox.'
"And I was like, 'What? You watch telly?' I was just so shocked that Tom Hardy watches the TV!"
She went on to say his agent later came over and asked if she would like to swap numbers with Tom so that she could go to their place to play chess or board games in the future.
Scarlett told the podcast: "I said, 'Yeah, it's with Tom and Charlotte... chess, tiddlywinks, whatever!' So I passed my number on and he texted me saying, 'this is Tom's number'."
At this point, Scarlett very nearly blew her brand-new friendship with The Dark Knight Rises star - after she took a photo of her outfit to send to her mum, but accidentally sent it Tom while he was stood in the next room.
"I was so mortified," she added. "I thought I'd ruined my chances of becoming friends with him."
But it turns out that Tom wasn't too put off by the whole thing... in fact he thought it was a decent opportunity to make a joke.
Scarlett explained: "He then sent a photo back doing the exact same pose as me in the mirror saying, 'Whoops, was meant to send that to my mum too'. He saved my embarrassment."
And it seems as though their friendship has gone from strength to strength since then, with Scarlett revealing: "Weirdly we then went to Disneyland in Paris.
"So, him and Charlotte and two little ones and me and my dad, my little sister and my cousin.
"And they did Jedi training together and stuff. It was crazy but fun."