First Pictures Indicate Breaking Bad Movie Will Return To Iconic Locations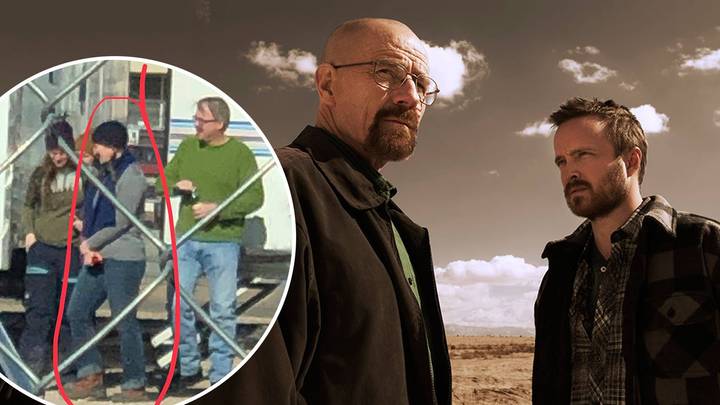 Not a great deal is known about the Breaking Bad film, which is currently being shot in Albuquerque, New Mexico, USA.
However, one die-hard fan is doing everything they can to reveal potential details, sharing regular photographs of crews filming in the area to Instagram account, all_about_saul.
Pictures on the account have shown the show's creator Vince Gilligan on set, while certain props and locations have hinted at a possible use of flashback in the film.
It is understood the movie will follow the story of Jesse Pinkman post-series, who if you recall was on the run by the close of the final episode. Yet, there appears to have been plenty of filming in familiar locations for someone who should be trying to get as far away from familiar as possible.
Pictures of what appears to be Mike's car point most strongly towards the possibility of flashbacks, because if you recall, Mike died. Sorry to have to break the news if you didn't recall. Not sorry to break the news if you haven't watched it yet - you've had plenty of time.
Jesse's car also appears to have been pictured being towed about the city and crews have been pictured outside his parents' house. The more devout fans among you may also recognise pictures of the old compound lab and Ed the Disappearer's vacuum repair shop.
Of course, it is possible that Jesse eventually returns to city further down the line, after numerous unpredictable plot twists... but, what about Mike's car?

Online film publication Revenge of the Fans claims to have done some digging and worked out who will feature in the movie - currently in production under the title Greenbrier.

Along with Cranston and Aaron Paul (Jesse), the site claims Krysten Ritter, Jonathan Banks, Jesse Plemons, Charles Baker, Matt Jones and Robert Forster would all return, along with a 'few surprises'.
Revenge of the Fans states: "Not only will the story [to] find a way bring back Ritter's Jane - with whom Jesse had a tragic love affair way back during the show's first season - but series star Cranston is set to play some sort of role in the new film as well. This, despite both characters having met their ends on the show."
However, Cranston previously said in an interview on The Dan Patrick Show that he hadn't seen a script for the film.
He said: "There appears to be a movie version of Breaking Bad, but I have honestly not even read the script.
"There is a question [of] whether we'd even see Walter White in the movie. I would absolutely do it [play Walter again] - it's Vince Gilligan and he's a genius."
We certainly hope Cranston does get involved... Perhaps he should take a leaf out of Heisenberg's book and knock on at Gilligan's place.
That oughta seal the deal.