Ryan Reynolds And Rob McElhenney Attend First Wrexham Game After Buying Club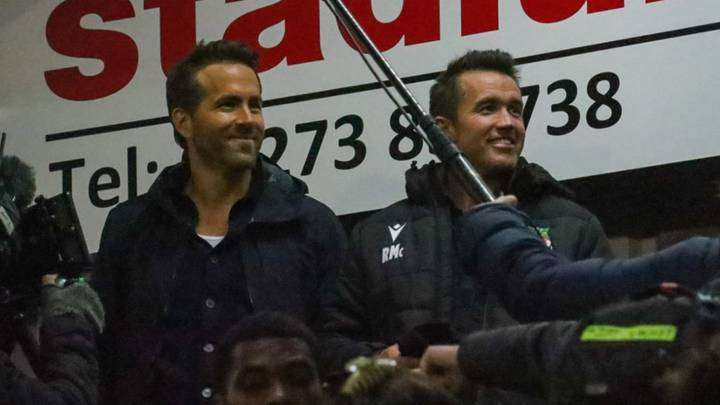 Ryan Reynolds and Rob McElhenney have been spotted in the UK attending their first Wrexham game together.
The movie stars expressed an interest in the north Welsh football team last year and completed their takeover in February 2021.
They finally came to support their footy players as the side played against Maidenhead United at York Road.
The north Wales club had been under fan ownership since 2011 after a tricky few years.
They lost their place in the Football League in 2008 and then eventually fell into administration.
The dedicated fans kept the club alive for nearly 10 years until the Deadpool and It's Always Sunny in Philadelphia actors presented a case to buy them.
Members attached to the Wrexham Supporters' Trust overwhelmingly voted to approve the takeover bid to ensure the club had a decent shot at a future.
A statement was posted on Wrexham's website at the time, which said: "As confirmed this morning, 97.5% of voters (1,223 members) voted in favour of the resolution.
"As a result, talks with the proposed bidders will now continue and we are in a position to confirm the two people interested in investing in Wrexham AFC.
"Rob McElhenney is an American actor, director, producer and screenwriter, best known as the creator of It's Always Sunny in Philadelphia. Ryan Reynolds is an award-winning Canadian actor, writer, producer and business entrepreneur whose credits include Marvel's Deadpool.
"In due course, Mr McElhenney and Mr Reynolds will put forward their vision for Wrexham AFC and proposal for members to vote on at a second special general meeting."
Sadly, it wasn't the best night for Reynolds' and McElhenney's first game as Wrexham lost to Maidenhead United 3-2.
The two actors completed their takeover of the north Wales club earlier this year.