The Irishman: Netflix Release Date, Cast, Running Time And Everything We Know About Jimmy Hoffa
It seems like the whole world is just waiting to set their eyes on Martin Scorsese's The Irishman. The film is set to feature a phenomenal cast including gangster-movie royalty, Robert De Niro and Al Pacino who will no doubt captivate the audience despite a bladder-bursting running time. Here's everything you need to know about it including the running time, cast and synopsis.
The mob flick is going to be so huge that it's being released on the big screen despite being created for Netflix.
When talking about a possible theatrical release Robert De Niro told Marrakesh Film Festival 2018: "We've talked about it with Netflix.
"They are going to do a presentation of our film the way it should be, in a theatre, in certain venues, the best theatrical venues there can be.
Because this story is set over the course of several decades, movie makers were tasked with either finding actors who resembled some of the older cast members or simply use cinema magic to de-age them. They went with the latter which can be see in the new trailer.
If you're living over in America, you get to watch a little bit sooner, as it's reportedly tipped for cinematic release on 1 November and dropping on Netflix one week later on the 8 November.
What's The Irishman about?
"The film chronicles one of the greatest unsolved mysteries in American history, the disappearance of legendary union boss Jimmy Hoffa, and offers a monumental journey through the hidden corridors of organised crime."
The movie is based on a book called I Heard You Paint Houses by Charles Brandt and tells the story of Frank Sheeran (played by Bobby De Niro), an infamous war gangster, hitman and war veteran who got himself mixed up with some of the most notorious folk about during the 20th century.

The plot of the movie will see Sheeran caught up in the murder of a fellow gangster, Pacino's character Jimmy Hoffa.

When the premiere for the film was announced, it was described by the festival as 'funny, troubling, entertaining and, like all great movies, absolutely singular'.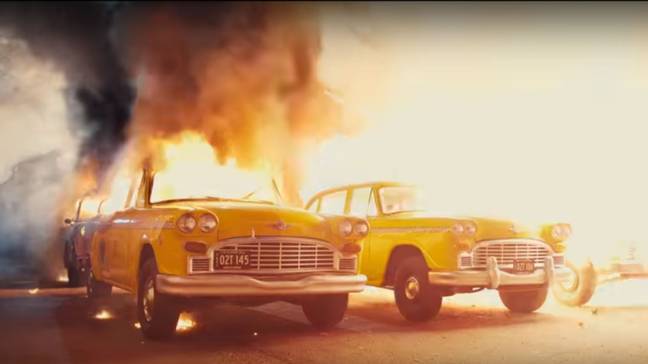 What is The Irishman Release Date?

The Irishman drops on Netflix in the UK on 27 November and in selected cinemas on 8 November.
What's the running time?
The film will be 210 minutes long - which is exactly three and a half hours.
It's Scorsese's longest film to date, exactly half an hour longer than The Wolf of Wall Street, and a whole hour and two minutes longer than Goodfellas.
Will it live up to the hype?
NYFF director Kent Jones, who has been treated to a screener of the new flick, heaped praise on it, saying: "It's the work of masters, made with a command of the art of cinema that I've seen very rarely in my lifetime, and it plays out at a level of subtlety and human intimacy that truly stunned me."
The Irishman cast
The Irishman features an absolutely star-studded cast. Here's the complete list of the A-list roster.
Joe Pesci as Russell Bufalino
Harvey Keitel as Angelo Bruno
Bobby Cannavale as Felix "Skinny Razor" DiTullio
Stephen Graham as Tony Provenzano
Kathrine Narducci as Carrie Bufalino
Domenick Lombardozzi as Anthony Salerno
Anna Paquin as Peggy Sheeran
Sebastian Maniscalco as Joe "Crazy Joe" Gallo
Ray Romano as Bill Bufalino
Jeremy Luke as Thomas Andretta
Joseph Russo as Stephen Andretta
Stephanie Kurtzuba as Irene Sheeran
Aleksa Palladino as Mary Sheeran
India Ennenga as Dolores Sheeran
J. C. MacKenzie as Jimmy Neal
Craig Vincent as Ed Partin
Gary Basaraba as Frank Fitzsimmons
Welker White as Josephine Hoffa
Jesse Plemons as Chuckie O'Brien
Jim Norton as Don Rickles
Larry Romano as Phil Testa
Jake Hoffman as Allen Dorfman
Patrick Gallo as Anthony Giacalone
Barry Primus as Ewing King
You can watch the Irishman on Netflix in the UK on 27 November and in selected cinemas on 8 November.