50 Cent Showed His Support For Eminem During Feud With Machine Gun Kelly
If you've been able to keep up with the Eminem and Machine Gun Kelly beef, you'll not be surprised to hear that many people have been taking sides, from fans to fellow musicians.

The latest to get on their attention bandwagon is 50 Cent, who appears to have sided with 45-year-old Eminem - the 'In da Club' rapper's latest tweet compares Slim Shady to The Dark Knight's Joker.
And of course everyone had an opinion on ol' Fiddy's post, which referred to Eminem dropping his new counter-diss track 'Killshot' off the back of MGK's 'Rap Devil' - a play on Em's 2013 song 'Rap God'.
Anyway, one person responded to 50 Cent via Instagram, writing: "Killshot is better than Rap Devil in EVERY way possible. The only good line in that song was the one about Em 'Staning' himself... I'll give him that.. everything else was predictable, childish and boring."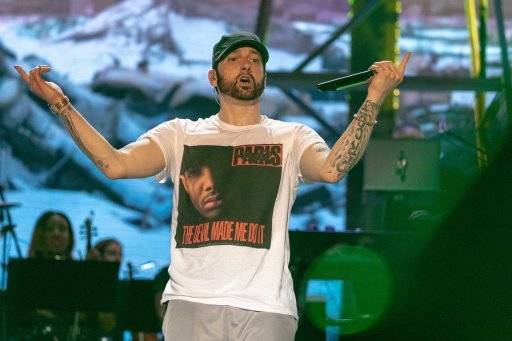 Another said: "I was kinda with MGK just for his effort, but EM came through and made me realize. King Mathers forever"
Someone else commented: "Killshot was Trash.. MGK murdered Eminem. Shady gonna have to do Better than that Shit.. #Getthestrap"
Marshall Mathers was taking aim at 28-year-old MGK which was initiated way back in 2012 when MGK called Em's daughter Hailie 'hot as fuck'.

Diss songs shouldn't be filled with celebrity name drops to pad out lazy bars.
- IGGY AZALEA (@IGGYAZALEA) September 14, 2018
Also let's talk about why it's lazy now; but wasn't in the earlier work.
The earlier stuff was crazy, twisted and creative.
This stuff feels more like picking names that fit easily into a rhyme scheme. ‍♀️
- IGGY AZALEA (@IGGYAZALEA) September 14, 2018
And the Internet responded in the only way it knows how - via a series of withering put-downs.
One person effortlessly obliterated Iggy by saying: "Listen Iggy...Em can't destroy your career, you don't have one."

Ouch. But this next one must have stung:
There you have it - that's the latest. Until next time, which we reckon is probably by the close of today. Or by close of the next hour. Who knows?