Entertainment
Elton John Adds Six More Dates To His Choc-Full Australian Tour
Mr Tiny Dancer has given Australians what the deserve and added six more shows to his already packed schedule.
Sir Elton John will now be playing a whopping 32 shows Down Under, adding shows at Geelong, Melbourne, Coffs Harbour, Townsville, Sunshine Coast and Sydney, with a spot at A Day On The Green festival.
The music legend's tour promoter Michael Chugg said: "We're thrilled to be adding even more dates to Elton's final tour.
"Demand has been absolutely incredible, we know the Rocketman is going to create magic memories for Australia and New Zealand when he arrives later this year!"
According to Music Feeds, here are the details for the pre-sale before tickets get released to the public on 25 June.
TELSTA THANKS PRE-SALE
Melbourne & Coffs Harbour: Tuesday 18 June (9am local)
Townsville - Sunshine Coast - Sydney: Tuesday 18 June (12pm local)
ROCKET CLUB MEMBERS PRE-SALE
All new Australian shows: Thursday 20 June (12pm local)
CHUGG VIP MEMBERS PRE-SALE
Melbourne & Coffs Harbour: Friday 21 June (9am local)
Townsville - Sunshine Coast - Sydney: Friday 21 June (12pm local)
Elton John's name is everywhere not just because of his massive farewell tour, but because of his own biopic Rocketman.
The film is based on the life of Elton John, the famously flamboyant singer, pianist and composer who is one of the best-selling music artists in the entire world.
Taron Egerton, who stars as the iconic performer, has previously explained the film isn't the biopic many might expect, and has instead referred to it as a 'fantasy musical'.
Last year he told Collider: "We are making a movie called Rocketman about Elton John's formative years. Everyone thinks it's a biopic. It isn't. It's a fantasy musical so it's actually his songs used to express important beats in his life at emotional moments. He's not the only character that sings. It's going to be fun."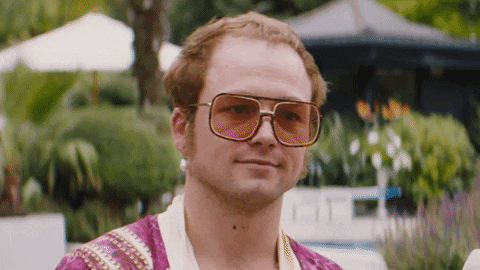 Elton John Brows GIF by Rocketman

Egerton also explained that he's been adamant to do the job properly - and that he'd not only be performing the songs himself, but he'd also be singing them live on set.
He said: "I've recorded some songs. I've been doing singing lessons. The next step is I need to think about choreography and trying to create some semblance of a performance that is at least reminiscent of him."
Egerton added: "I'm going to do it all. I'm going to do it on set as well. We're going to use a variety of techniques but I will always be singing on set. No miming. I'm just not interested in doing it that way."
Featured Image Credit: PA
Topics: Entertainment, Celebrity, Music, Australia