Machine Gun Kelly Fires Back At Eminem With Diss Track 'Rap Devil'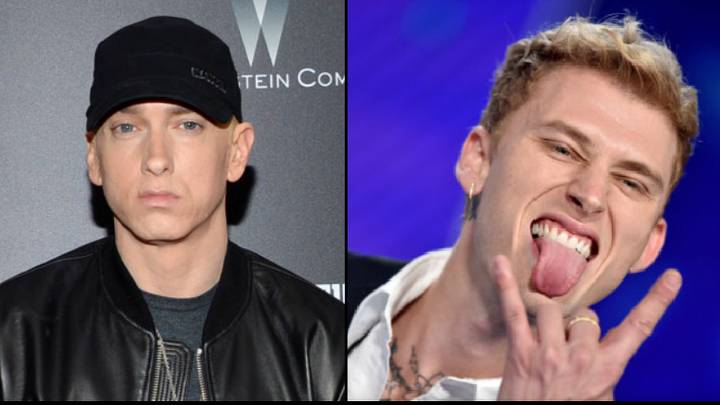 Diss tracks are cringeworthy things, aren't they? What's wrong with just calling someone a dick and moving on with your life? Who can be arsed to rhyme about it? Looks like no one has ever suggested this to Eminem, though.
In his latest diss track, 'Not Alike', he spends time ripping into 28-year-old rapper Machine Gun Kelly as he raps: "I'm talkin' to you, but you already know who the fuck you are, Kelly / I don't use sublims and sure as fuck don't sneak-diss / But keep commenting on my daughter Hailie."
Not following? Well, MGK angered Slim Shady way back in 2012 when he tweeted that his daughter was 'hot as fuck'. Uh-oh, everyone knows not to mess with Eminem when it comes to his kid.
Anyway, now a very brave/foolhardy (delete as appropriate) MGK has hit back to defend himself against his 45-year-old rival, who he once referred to as his 'idol'.
How the tables have dramatically turned.
Announcing his diss track, 'Rap Devil', to his 3.5 million Instagram followers, MGK wrote: "FUCK RAP GOD IM THE RAP DEVIL...good morning @eminem".
im standing up for not just myself, but my generation. im doing the same shit you did back in ur day. life is still real on my side, and i had to take time from the grind to defend myself from someone i called an idol. love, Rap Devil.
- :smiling_imp: (@machinegunkelly) September 3, 2018
Interested to find out what he says? Oh boy, he goes in hard.
The young Cleveland-born rapper, real name Richard Colson Baker directly targets Eminem within the first verse saying: "Ayy, somebody grab him some clippers / His fucking beard is weird / Tough talk from a rapper paying millions for security a year / I think my dad's gone crazy / Yeah, Hailie, you right / Dad's always mad cooped up in the studio, yelling at the mic".
He goes on to explain that Marshal Mathers is 'bored and sober', then calls him a 'fucking dweeb' (ouch) before complaining about his choice of clothing - 'sweatsuits and them corny hats'.
The track continued: "Man, you sound like a bitch, bitch / Man up and handle your shit (ugh) / Mad about something I said in 2012 / Took you six years and a surprise album just to come with a diss."
Towards the end of the song, he slates Eminem for not being - here we go, get ready - as tall as him.
Insult of the century or what? Apparently the older rapper is 5'8" compared to MGK's 6'4" build.
Fans have taken to social media to comment on the ongoing feud, with one person saying: "Wow... as much as I wanted Machine Gun Kelly's diss to be whack, he actually slaughters Eminem. Let's just hope Eminem don't have a relapse and turn back into Slim Shady."
Another added: "Machine Gun Kelly really went and made an Eminem diss. I don't think Em's gonna care enough to respond, but if he does, RIP to MGK's career bro."
And a third commented: "Fair play to Machine Gun Kelly for having the balls to release an Eminem diss track, but as brilliant as the song is, it could be the biggest mistake he's ever made..."
According to NME, Machine Gun Kelly was just one of many artists Eminem took aim at on his new album, Kamikaze, with Drake, Migos and Tyler the Creator all receiving criticism from the Detroit rapper.