He's one of the most iconic figures to ever come out of horror cinema, and it's now come to light Chucky - a doll possessed by the spirit of a fictional serial killer - is also a firm supporter of the LGBTQ+ community.
The recent development came in Syfy's new TV series, which explores the infamous story of the murderous red-headed doll. Watch below:
In a clip shared to Syfy's TikTok account, Chucky is seen talking to Jake Wheeler, the boy who discovered him at a yard sale.
In the footage, Chucky reveals to Jake that he has a child of his own, explaining: "You know, I had a Queer kid."
This is a reference to 2004's Seed of Chucky, which sees the doll become a parent after his plastic partner Tiffany gives birth.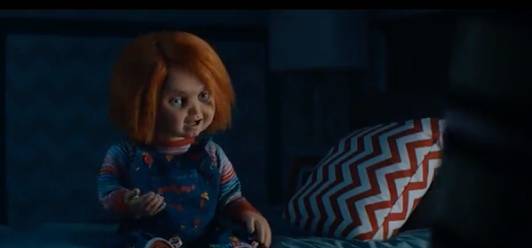 In the film, Chucky believes the child is a boy, hence the name Glen. However, Tiffany thinks they're a girl, and calls them Glenda. Overhearing the argument, Glen/Glenda says they 'want to be a boy', but also liked the idea of being a girl.

"I'm not sure," they say. "Sometimes I feel like a boy. Sometimes I feel like a girl. Can I be both?"
Chucky then goes on to say that his son is actually gender fluid, to which Jake asks if that's something that he's OK with.
"I'm not a monster, Jake," Chucky replies sternly, a simple line that has quickly meant a lot to so many.
The topic of Chucky's child's identity is definitely not a brand new conversation, though this does mark the first time it's been confirmed on-screen.
Earlier this year, the Texas Department of Public Safety issued an apology after sending out an Amber Alert, the emergency message used in cases of missing children, featuring Chucky and his child.
Under gender for Glen it should say non-binary.
- Jennifer Tilly (@JenniferTilly) January 29, 2021
After screenshots of the message were shared to social media, Chucky star Jennifer Tilly pointed out that 'under gender for Glen it should say non-binary'.