Louis Theroux truly is the gift that keeps on giving. This morning (2 September), he had his fans drooling after showing off his sweet guns on an episode of Lorraine.
While he was at it, Louis showed the host his new muscles, which he credits to fitness coach Joe Wicks for helping him to get fit during lockdown.

He said: "I've been doing a lot of Joe Wicks in lockdown," while flexing his guns to the camera.

Of course, in true Louis fashion he was totally modest about it all, adding: "It's not about muscles, it's about mental health and muscles are a bi-product as well."
As you'd imagine, viewers at home were delighted with his new look, with many taking to the comments section on Twitter.
One wrote: "Had to pause and rewind and share this @louistheroux Mr Universe moment. I think Lorraine's face speaks for us all."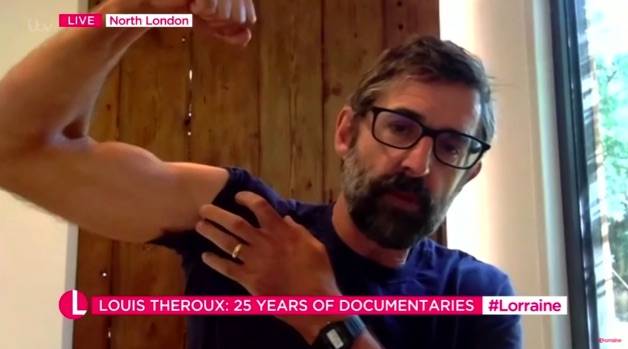 Another commented: "@louistheroux just flexed his muscles on @reallorraine tv show and I have choked on my morning cuppa!!"
A third boldly declared: "It's over for every other man on planet earth. Louis Theroux is the epitome of man. I'd sell my left leg for Louis."
We're not surprised the esteemed filmmaker is looking so buff, as he previously revealed that Wicks' half hour online exercise classes had become 'the main part' of his day as he adjusted to being stuck at home.
He told LADbible: "There are very few things that are locked in to my day, and the main one is that at 9am every morning, I do Joe Wicks.
"In my normal daily life, outside of this, I cycle to and from work, and occasionally I might do some sit ups and press ups if I'm feeling ambitious. On a really special day, I might do some squats.
"At 49, I'm probably fitter now than I have been in the last two years. I couldn't do it this morning because of work, and I felt quite annoyed about it. I've been getting focussed on having to do Joe Wicks every day.
"I've become that guy where at 9am, everything else stops for me. Because Joe Wicks comes on. [Adopts incredibly camp Joe Wicks voice] 'Ooh, who's there you silly sausage? Who have we got streaming in? Silly sausage. Look at my barnet!'"
"Two weeks ago, to me, he was just the guy with the ridiculous hair on the cookery book that you never picked up. Now he is my safe space."
Well do you know what, Louis? You are our safe space for life.