Supporter Narrowly Misses Out On Five Grand After Toni Kroos' Game-Winning Free-Kick Is Taken Inside The Box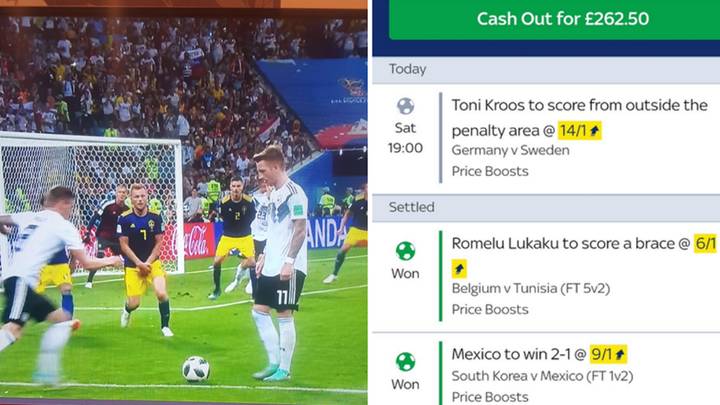 Philosophy is a complicated game, but for anyone who can't be bothered with hypothetical faffing about, it tends to boil down to this: something either is so, or it isn't - just as this sorry supporter found out yesterday, after his World Cup bet missed by a matter of inches.
Still, you can understand why he might have felt the gambling company should just pay out given the tiny margins on which their customer missed out.
He laid down a fiver: Mexico to beat South Korea 2-1 at 9/1, Romelu Lukaku to score a brace in Belgium's clash against Panama at 6/1, and German midfielder Toni Kroos to score from outside the box at 14/1.
The first two came through, sure enough, but Kroos netting from a long-range effort didn't happen, simply because the free-kick he scored late on against Sweden was rolled to Marco Reus mere inches inside the box, before the attacker stopped the ball and Kroos let fly.
He buried the ball into the top corner and sent Germany back on course for a place in the knockout stages of the World Cup, but crucially didn't send our tragic hero rushing back for a payout.
And so, it didn't happen. A five pound bet that could've earned £5,250 didn't come off in the end.
But he's got the support of plenty of users on social media. Some even called for the betting company to pay the guy, purely for getting close desperately close.
Others weren't so charitable.
You'd be gutted, wouldn't you? Back on philosophy, does this represent the first incidence of Schrödinger's goal? It both does and doesn't count inside the box...