If for some reason you've ever wanted to have all your exes gang up on you at Christmas - first of all, what on earth is wrong with you? But if you're still curious, one brave/stupid lad decided to run the gauntlet so you don't have to.
It all started on Xmas day, when our protagonist - known only as Tom - decided to set up a WhatsApp group titled 'Merry Ex-Mas' and decided to add four of his former flames to the chat.
It went about as well as you'd expect, and it wasn't long before things started to get chaotic as Gemma, Lisa, Bella and Steph all queued up to give the hapless Tom a piece of their mind.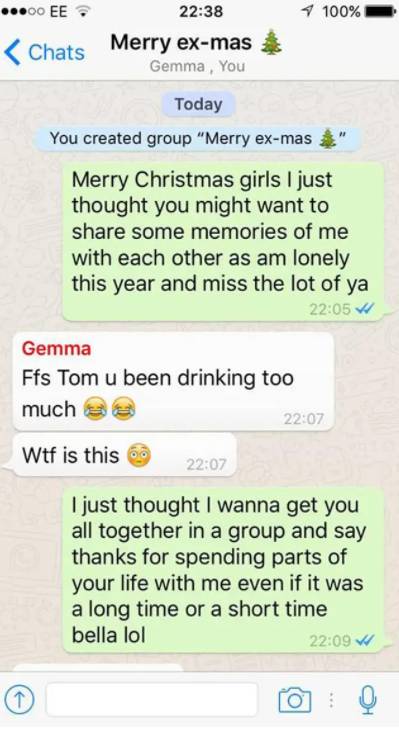 Tom got the ball rolling by simply saying: "Merry Christmas girls I just thought you might want to share some memories of me with each other as am lonely this year and miss the lot of ya. [sic]
"I just thought I wanna get you all together in a group and say thanks for spending parts of your life with me even if it was a long time or a short time Bella lol."
It went... about as well as you'd expect.
First up, ex Gemma guessed Tom had had a few too many to drink and generally found the whole thing hilarious.
Former flame Bella didn't seem to see the funny side though, and replied: "F*** off Tom, seriously. You really are a f***ing disgusting prick."
And as for what Lisa thought about the whole thing will forever remain a mystery, as she left the group immediately without saying a word, prompting Tom to write: "LISA DON'T GO LOL".
Things only got more heated from there too...
Bella, still incensed about the whole thing, said: "Do you really think this is funny? Putting me in a group with a girl I know you f***ing slept with while we were together?!"
But the girl in question, Steph, soon steps up to defend herself by firing back with the revelation that Tom told her they weren't together at the time.
Bella responded: "We were together 'pet' and Tom just lied to you like he does to everyone. He's a f***ing pig."
If that wasn't bad enough, their ex-boyfriend then wades back into the chat to cause more chaos by claiming they weren't together at the time, as he'd sent a message saying it was over.
Bella then points out it was sent over Facebook, which she claimed to never check.
The squabbling continues for around 10 more minutes before both Steph and Bella leave the group chat.
That leaves just Tom and Gemma, who he was with when they were at school and seemed to stay friendly with, which prompted him to spark up a more light-hearted conversation.
He said: "Well that went well. How's things Gem? Fancy a drink?"
She replied: "I was a bit shit until this convo - my nan passed away just before Christmas so I could do with a drink" When do you fancy it? xx."
Congrats Tom! God loves a trier.