Builder Who Won £1 Million On Lottery Left Ticket On Counter In Shop
A builder who won £1 million ($1.3 million) on the lottery left his ticket on the counter in the shop. Watch the moment he found out he'd won here:
Things had looked inauspicious for Terry Kennedy, from Barnsley, UK, when he tried to get a EuroMillions Lucky Dip ticket last month, thinking it was a Friday - only to be told it was in fact a Saturday.
The 28-year-old subsequently grabbed a Lotto ticket instead and it matched two main numbers in the draw, entitling him to a further free Lucky Dip.
And when he went to collect this ticket, he had a bit of a shocker.
"I was having a bit of a nightmare in the shop," Terry told LADbible.
"I think I bought some pop and sweets and that as well, I was on my dinner break, and I was dropping my pop, dropping sweets.
"I think I left my change, then got out of the shop and the old woman was like, 'Don't forget this!'
"I turned around and it was the lottery ticket, and she even said, 'Watch it be a winner now,' and had a joke about it - crazy."
The soothsaying shop worker was proven correct on 10 November, when the ticket matched five main numbers and the Bonus Ball in the Lotto draw, making it worth a million quid.
Terry only found out about his lucky draw at work the next day, though he initially didn't believe it. Neither did his colleagues, including his dad, who got back to work.
It was only once an operator confirmed the incredible news over the phone that the reality started to sink in, with footage of the life-changing moment going viral.
Terry - who used to be a pro footballer when he was younger until his career was derailed by a recurring injury - rang his girlfriend Kay Yoxall to share the news, but she too didn't believe him.
Kay said: "We've always said if we were to win and we were to check our ticket at work, we would phone each other and just be like, 'Come home, we've won.'
"But that's just always a dream and you never think that it's going to actually happen. Then when he phoned me saying that we'd won - and you could hear everyone in the background - I was just like, 'You're just winding us up, all the building site's in on this, it's a joke.'
"I had to get my brother [who also works on the site] to FaceTime me and put it on Tells so I could see his reaction. And it was only when I saw him that I knew that it wasn't a joke."
As for Terry and the lads on site, they all downed tools and headed straight for some pints.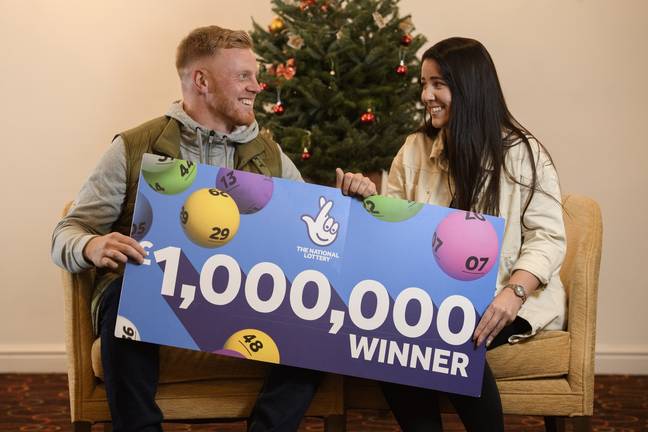 Terry said: "We all went to the pub, it's like two minutes down the road.
"I had literally just been paid, so I had to get rounds for everyone. I got everyone a couple of rounds and basically all my wage had gone."
Terry hasn't been back to work since, but he has been to Tenerife and Dublin - with New York booked for January.
Kay has also been allowed to take a sabbatical, and Covid permitting, they plan to travel the world next year.
Hopefully Terry buys some pop and sweeties for that shop worker before he sets off on his life-changing adventure!