Couple Build Incredible Pub With Pizza Oven And Men's Urinal
With pubs closed over much of the past year, people have been getting busy in their gardens and building all manner of bars and drinking holes. But one couple was enjoying a knees up in their own pub long before lockdown was even a twinkle in Boris Johnson's eye. See their work here:
Looking for a way to make the most of some dead space in their garden, Viccie Mahon and her husband Sean, from Derbyshire, decided it was the perfect spot for their very own boozer.

And it is mightily impressive.
The Hop Cottage Inn is virtually the size of an actual pub, complete with a fully-stocked bar, jukebox, lounge area, and a massive pizza oven attached to the side.
There's even a urinal for punters to use when they've had a few too many.
Speaking to LADbible, Viccie said it took around a year to complete, and it wasn't cheap, but she says if you're going to do it, you've got to do it properly. And we couldn't agree more.
She said: "Back in 2016/17, we had a room at the back of the garage which was just used as a dumping area, so Sean decided he wanted it cleared out, and to make use of the space he wanted to build his own bar for entertaining.
"Sean and I visited a few pubs for design ideas and secretly took photos. Two pubs made it for us, one for the shelving ideas and one for the beer pipe idea... the rest was all Sean's doing with input from our builder.
"I concentrated on the decor additions such as the the barrel, the memorabilia, the barware, stools etc. and not forgetting the amazing till which is always a talking point when we have visitors."
Adding: "It took about a year working on it on and off, from design to completion."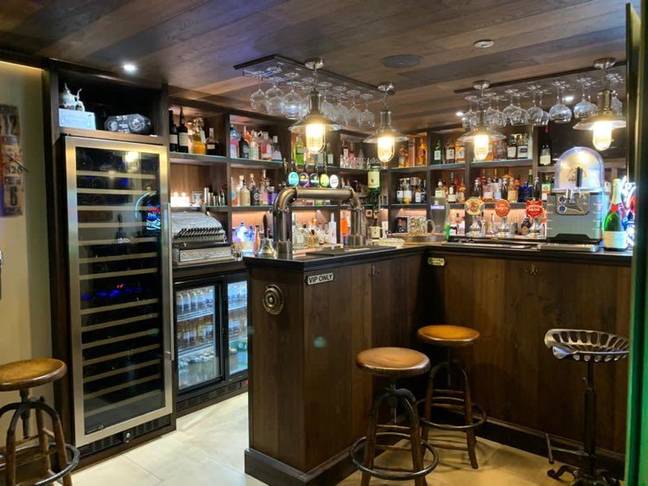 And thanks to the help of a 'master' builder and their sons, Viccie and Sean were over the moon with the results.

Viccie says they have used the Hop Inn for many a celebration over the past few years, with family and friends coming round to enjoy a few jars.
And she says the addition of the urinal means she can keep her bathroom safe from the poor aim of her male guests after they've had a couple of pints. Which seems fair.
She said: "I wanted an outside loo mainly for when we have parties to save people going in and out of the house all of the time, then I found the urinal which looked amazing, but wasn't cheap.
"We had it shipped over, and it is a great addition, and covers the men, so just the ladies get the comforts of using our toilet in the house."
But while this past year has meant Viccie and Sean haven't been able to enjoy the company of their friends as much as they would have liked to, they've still been getting some use out of it themselves.
Viccie added: "We would use it most weekends when we first finished it, then our local pub sadly closed, so we tended to use it a little bit more - we would have parties here, New Year's Eve, Halloween, Birthday, Engagement, etc.
"Then lockdown came along, and that increased our visits to the bar - the two of us would often end the day in there for a little tipple."
With the vaccine now being rolled out, hopefully it won't be too long until they're having to corral tipsy guests into the gents.