Huge Sandwich Eating Challenge Has Only Been Completed Once In 50 Years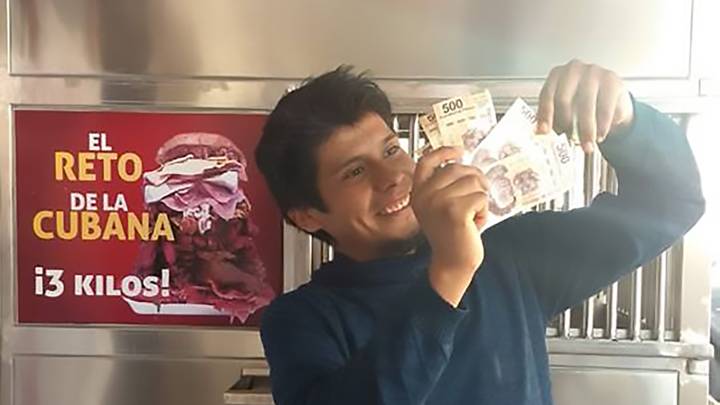 Sandwiches are perhaps one of the greatest creations in the history of mankind, they're incredible. But this food challenge might be enough to make even the biggest fan think twice before tucking in.
Staff at the Tortas Don Juan in Mexico City, had previously offered 2,500 MXN ( around £99) to any daring diner who is able to eat its three-kilogram (6-lb-10-oz) torta cubana sandwich in half an hour or under.

However, as it's only ever been done the once in half a century since it was devised, the restaurant's owner Julio Rodriguez has upped the prize to a hefty 3,000 MXN (£118) in order to encourage more people to come and give it a go.
In Mexico, a torta is a sandwich served in a firm, crusty white bread roll which can contain a wide variety of ingredients depending on where it is made.

So if you want to cash in on this offer you'll have to make your way through more than a dozen layers of beef, ham, sausage, chorizo, egg, cheese, foie gras, breaded meat, chicken, avocado, tomato, onion, spicy sauce and mayonnaise. Holy Christ.
Skinny diner Luis Uriel, from the nearby city of Oaxaca, was the very first person to wolf down the sandwich when he walked into the restaurant one day last August.
Looking back at the incredible feat, owner Mr Rodriguez said: "He told us he'd seen the challenge on the internet and came here to see if he would be able to do it."
Mr Uriel went on the beat the challenge and received his cash prize - plus the 250 MXN (£9.95) cost of his meal - but nobody else has ever been able to claim the money.

The Cuban torta is named after the street where the traditional dish was invented, the Calle Republica de Cuba, in Mexico City.
Think you could manage it?