More than four million people have signed a petition asking for clemency for a trucker who was sentenced to 110 years in jail for causing a crash that killed four people on a Colorado interstate - as several fellow truckers vowed to boycott Colorado.
Rogel Lazaro Aguilera-Mederos, 26, was driving an 18-wheeler truck, in April 2019, when he crashed into multiple other vehicles resulting in a fireball explosion that killed four.
Aguilera-Mederos told police he lost control of the truck's brakes. He passed a runaway truck ramp and crashed into lined-up traffic.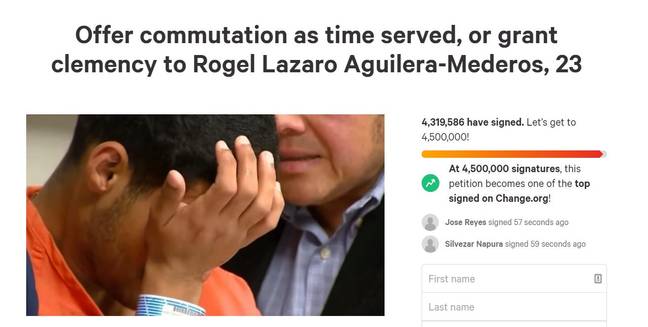 At his trial he was found guilty of 42 counts, including vehicular homicide, first-degree-assault and careless driving.
Judge A Bruce Jones said his hands were tied as the state has mandatory minimum sentencing laws.
He gave Aguilera-Mederos the minimum range available to him on every count, the Denver Channel reports.
Following his arrest, a petition was set up, which is addressed to Colorado Governor Jared Polis and Jefferson County courts, and reads: "Rogel Lazaro Aguilera-Mederos has nothing on his driving record, or on his criminal history. He had complied with every single request by the Jefferson County courts, and investigators on the case.
"He's passed all of the drug and alcohol tests that were given including a chemical test.
"This accident was not intentional, nor was it a criminal act on the driver's part."
Alongside the petition, several truckers have taken to TikTok to announce a 'boycott' of Colorado in response.
TikTok user @semi_crazy said: "They just offered me $5 the mile to go to Colorado. You know what I told them?...No trucks to Colorado. Let's show the entire country what us truckers can do when we stand together."
In another clip, another man who claimed to be a trucker said: "Us truck drivers are not going to Colorado. No more drivers to Colorado, we are sorry. We are standing with Roger."
However, despite the videos gaining popularity over the weekend, Greg Fulton, president of the Colorado Motor Carriers Association told ABC News he hasn't seen any concerning evidence of a boycott.
He said: "I'm not seeing really anything that's showing up of that boycott in terms of companies missing shipments or other things like that."