Brits are having a revelation about what the two symbols you see on red post boxes across the country really mean.
On the lighter and more wholesome side of social media, you can find a bunch of Twitter users out with their cameras snapping pictures of their local post boxes, comparing notes with other Brits and discussing what the different symbols mean.
The symbols, including 'ER' and 'GR', have since been analysed and their true meanings revealed.
I've lived in my house in Hutton for almost three years and have only just noticed this interesting anomaly on the postbox at the end of my road. Can you spot it? pic.twitter.com/TmkMadi0zt

— Russell Quirk - Estate Agent (@RussellatKeller) January 26, 2020
Royal Cyphers on post boxes signify which 'Monarch [...] was on the throne during their creation' and subsequently what time frame they are from.
"When the monarch changes, new pillar boxes do not replace old but are added to those in use, and this is why Britain has such an array of boxes," The Postal Museum explains.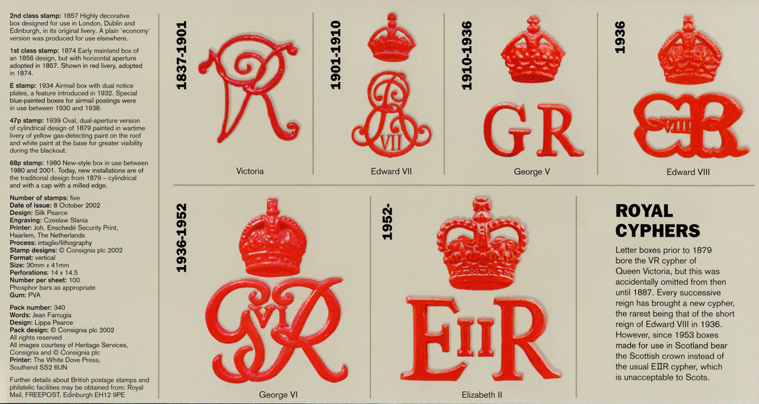 People have since flocked to social media in delight over the revelation of what the mysterious symbols on post boxes mean, with one user saying: "I saw my first GR postbox today (George Rex = King George) instead of ER (Elizabetha Regina)."
Another wrote: "I can't walk past a postbox without checking if it's an 'ER' a 'GR' or if you're really lucky a 'VR'.
"Just clocked a postbox near us with GR on it, rather than the more usual ER, which means it was put up during the reign of George V, not Elizabeth II, which I thought was quite interesting. Happy Sunday, y'all," a third commented.
This is the postbox in my village. The GR is a Royal Cypher, standing for George Rex (Rex being Latin for king). George V was king between 1910 and 1936, which is when this postbox would have been installed. Since 1952, postboxes include ER - Elizabeth Regina (queen) #fact pic.twitter.com/AUVaMeCv7p

— Patric Morgan Book Promoter Ⓥ 🏴󠁧󠁢󠁷󠁬󠁳󠁿 (@PatricProAuthor) October 23, 2020
The Royal Cyphers range from Queen Victoria, to Edward VII, George V, Edward VIII, George VI and Elizabeth II.
However, the 'most common' is Queen Elizabeth II's. "Her 'EIIR' cypher stands for 'Elizabeth II Regina'.
"The 'R' was added to a monarch's cypher from the reign of Henry VIII, and stands for either 'Rex' or 'Regina', which is Latin for King or Queen," the Postal Museum explains.
▪ER VII post box – Edward VII (postbox put up between 1901-1910)
▪GR post box – George V (postbox put up between 1910-1936)
▪GR VI post box – George VI postbox put up between 1936-1952)

A new king Charles III will have Royal Cypher CIIIR #PostBoxes seen today #RoyalCypher 📮 pic.twitter.com/lbTRUNae4t

— 🦒🤓TimmyLDN🙄🇬🇧🇪🇺🇺🇦🏳️‍🌈🦒 (@TimmyLDN) September 18, 2022
This subsequently means any post boxes erected in the near future will have a new symbol.
From now on, post boxes are set to feature the Royal Cypher of King Charles III, which is anticipated as being CR or CIIIR.