Researchers Shed Light On Ancient City In Middle of Pacific Ocean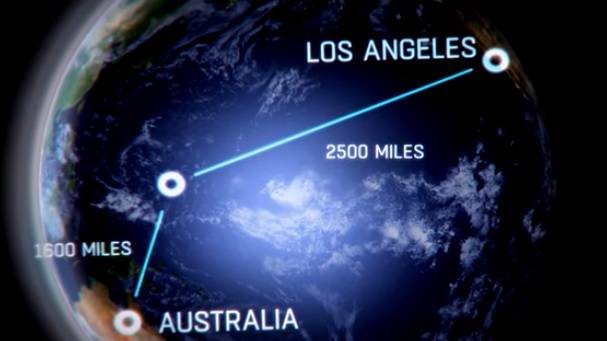 The prospect of exploring an ancient city in the middle of the ocean is still a thought that fills adventurers with excitement.

It could be a more common prospect for future generations if sea levels continue to rise at their current terrifying rate.
Yet researchers have shed more light on ancient ruins in the middle of the Pacific Ocean which could be the remnants of a past civilisation.
The Science Channel series What on Earth? has revealed aerial images of a mysterious site just off the coast of Micronesia, a tiny island nation made up of over 600 islands. Take a look at the footage below:
Credit: The Science Channel

The site can be found on the island of Pohnpei, which is Micronesia's most developed island and the location of Palikir, the country's capital.
Pohnpei is home to the archaeological site of Nan Madol, which can be seen clearly on Google Maps and was designated a UNESCO World Heritage Site in 2016.
Although Nan Madol has been recognised as historically significant, the site's ruins continue to be an enigma to researchers and historians.
The city, bordered by stone walls, is constructed on top of a lagoon and consists of a series of small islands linked by a network of canals.
The complex was the seat of the Saudelaur Dynasty which ruled Pohnpei until 1628, and is believed to date back as far as the first or second century AD.
Researchers have said that the stone monuments at the site are likely to have been constructed between around 1180 and 1200.
The discovery was made after the island was analysed by a team of researchers led by Mark McCoy, an archeologist at Texas' Southern Methodist University.
McCoy told FOX News that it looks like Nan Madol represents a 'first in Pacific Island history'.
"The tomb of the first chiefs of Pohnpei is a century older than similar monumental burials of leaders on other islands," McCoy said.
"To me, in its prime, Nan Madol was a capital. It was the seat of political power, the centre of the most important religious rituals, and the place where the former chiefs of the island were laid to rest."
The city of Atlantis may have been a work of fiction but it appears that Nan Madol may be our real-life equivalent.
So if you've always wanted to visit an ocean city, why not book a flight to Pohnpei and see the marvel for yourself?