One Of The FBI's Most Wanted Cyber Criminals Looks Like A Bond Villain
Evgeniy Bogachev is a Russian hacker and currently has a $3 million bounty on his head.
He hit the big time in 2014 when his malware dubbed GameOver ZeuS infected millions of peoples' computers - eventually allowing him to steal more than $100 million.
The 33-year-old now apparently has wasted no time in spending the cash, buying luxury cars and a yacht.
But it's his ownership of a Bengal cat which thrusts him into spy movie territory.
He bares striking similarities to infamous James Bond villain Ernst Stavro Blofeld, particularly Donald Pleasence's depiction of the character in You Only Live Twice.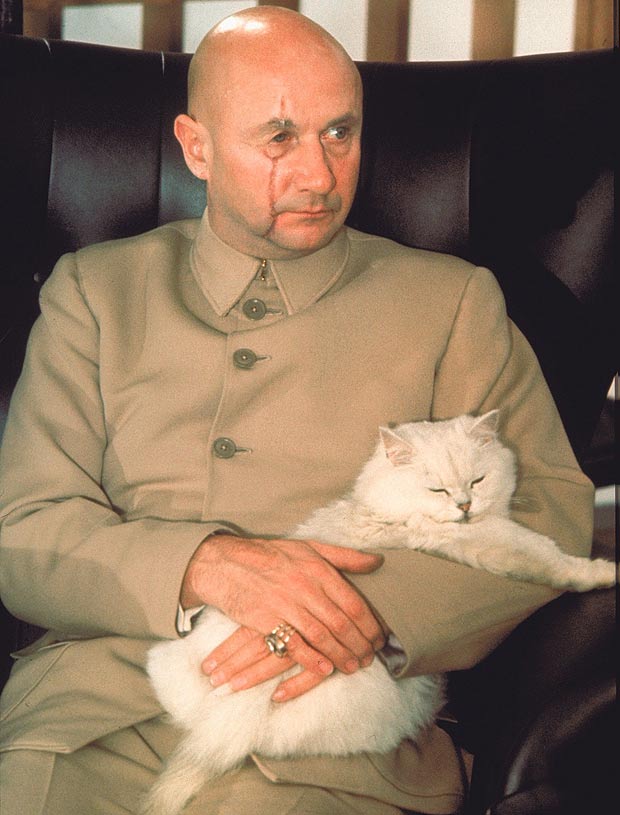 undefined
Goodbye, Mr. Bond! Credit: United Artists

Bogachev has been indicted in the US and faces charges of conspiracy, computer hacking, wire fraud, bank fraud and money laundering in Pennsylvania.
But ,unfortunately for the FBI, the US doesn't have an extradition treaty with Russia and until he commits a crime in the country, the cyber criminal won't be arrested.
The New York Timesalso believes he is even working WITH the Russian government.
When Bogachev's malware infected millions of computers - it allowed the 33-year-old to take control of the device.
While many of these laptops and computers only had holiday photos and financial information - NYT writers Michael Schwirtz and Joseph Goldstein say: "It is almost certain that computers belonging to government officials and contractors in a number of countries were among the infected devices.
"For Russia's surveillance-obsessed intelligence community, Mr. Bogachev's exploits may have created an irresistible opportunity for espionage."
"While Mr. Bogachev was draining bank accounts, it appears that the Russian authorities were looking over his shoulder, searching the same computers for files and emails."
"In effect, they were grafting an intelligence operation onto a far-reaching cybercriminal scheme, sparing themselves the hard work of hacking into the computers themselves."
The Russian hacker was one of six people who had sanctions imposed against him by the Obama administration over claims they meddled with the US presidential election.
While the FBI is waiting for the moment he steps outside of Russia, the guy is probably living the high life on his luxury yacht.

But if you want to avoid being a victim of the type of malware he produced in the future - maybe you should try deleting yourself from the Internet.
I know, I know - it seems weird and kind of hard but it's doable.
The Independent reports that two Swedish men, Wille Dahlbo and Linus Unnebäck, have created Deseat.me, which allows you to log in with a Google account and immediately see which apps and services are linked to it.
The men designed the Internet deletion site as a place for people to 'clean up their Internet presence'. Sounds. Very. Useful.
After installing the app and services your email is linked to, you can begin to remove yourself from data collection tools and decrease your likelihood of being hacked.
"Privacy and data security is something we regard as extremely important," the team behind the app told the Mirror.
"In fact, it's our number one focus from beginning to end. That's why we built it to run on your computer. So basically the only thing you're telling us is what accounts you want to delete. That's it, and since we use Google's OAuth protocol we don't have access to any of your login information."
Other similar services such as Just Delete Me or Account Killer both hold massive directories of links you can use to delete account pages, helping you remove traces of yourself online.
Featured Image Credit: Twitter/GameOver ZeuS