Sesame Street To Hold Special Episode Educating People About Racism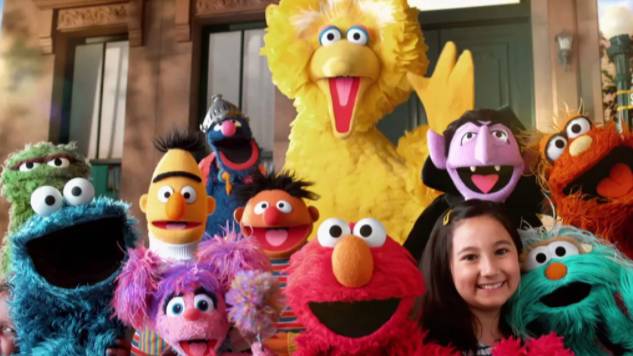 The issue of racism has been brought to the forefront following the death of George Floyd in America.
The African American was killed in police custody last week and his arresting officer has been charged with third-degree murder and second-degree manslaughter. Video footage captured Derek Chauvin kneeling into Floyd's neck for nearly nine minutes before he lost consciousness.
With the Black Lives Movement in full force again, Sesame Street is joining forces with CNN to have a frank conversation about the racial divide in America and around the world.
The 60-minute Town Hall, titled 'Standing up to Racism', will feature the likes of Big Bird, Elmo, Abby Cadabby and Rosita and other characters.
They'll be joined by CNN commentator Van Jones and CNN anchor and national correspondent Erica Hill, who will take questions from families.
The topics will be centred on the America-wide protests that have unfolded, embracing diversity and being more empathetic and understanding.
This will be the second Town Hall meeting involving Sesame Street characters, with the first teaching kids about the coronavirus pandemic and how to avoid spreading it.
It helped children in America understand why it was so important to wash their hands and what they could do to stay safe.
With the aide of the Sesame Street characters explaining things in simple terms, viewers were able to grapple with feelings of grief, loss and the need to stay inside so much.
It's also not the first time the legendary TV show has touched on a sensitive issue.
Last year, the series introduced a new puppet called Karli, whose mother is fighting addiction.
The character's backstory was explained to viewers, who got to hear about Karli's mother having a 'grown-up problem' and is battling opioid addiction, which meant the bright green puppet has had to go into foster care.
Creators of the show have decided to introduce the character as part of the Sesame Street in Communities online space. The team explained that they have turned to the issue of addiction after receiving data that showed 5.7 million children in the US live in households that have a parent with a substance use disorder.
Kama Einhorn, who is senior content manager with Sesame Workshop, said: "There's nothing else out there that addresses substance abuse for young, young kids from their perspective.
"Even a parent at their most vulnerable - at the worst of their struggle - can take one thing away when they watch it with their kids, then that serves the purpose."
The clip, entitled 'It's Not Your Fault', is part of a series of online-only segments and resources which were made with the help of a child therapist. They show Karli with 10-year-old Salia Woodbury. Both of their parents are in 'recovery' and Elmo's dad, Louie, explains that addiction is a sickness.