Aussie Workshop Sees Boys Paint Each Others Nails To Learn About Toxic Masculinity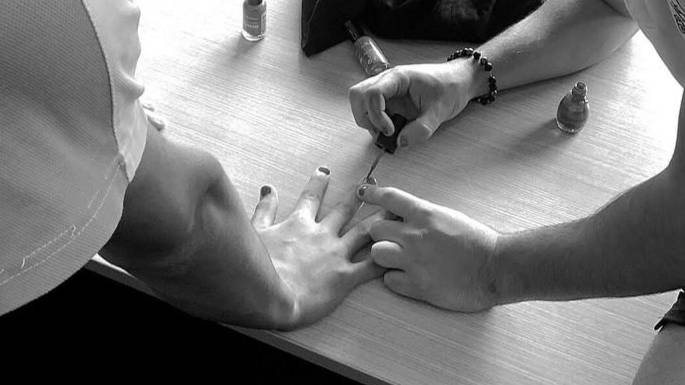 A mental health workshop has been doing the rounds at schools in New South Wales to help young men address issues related to suicide, being a man and toxic masculinity.
Tomorrow Man has so far visited public high schools like Bulli High, Kogarah High and Narrabeen Sports High, and private schools like Newington College.
One of the exercises that the boys do is paint each others nails to talk about what it means to be a man.
Painted nails are usually a display of femininity, however Tomorrow Man tries to get blokes to see that it's just paint.
"As part of the build up to this activity we get the young lads to show us their hands. Often you can tell a lot from someone's hands," Tomorrow Man's Josh writes on Instagram.
"One lad had a massive pair of mitts, callused and permanently smeared with dirt; the hands of a farmer. We painted his nails bright pink.⁠ He told the group how uncomfortable he would feel with painted nails. He was heading into the markets on the weekend and was sure he'd get some weird looks.⁠"
Josh explained how the young lad burst into tears after being encouraged to talk about something that made him proud, which was when his dad told him he was excited to see him becoming the man of the family.
"This was tough," he continued. "I thought about how much the strong and silent stereotype robs men from sharing these poetically beautiful moments, and each blokes epic stories. I have the opportunity to reassure young men that it's more than okay to open up and show emotion, and lucky for me I also get to see and hear all the benefits of this."

Boys who participate in this exercise are encouraged to see if they can wear the nail polish for two weeks.
In the workshops, they're urged to cry and open up about their feelings and dive into emotions they usually keep buried.
But these workshops aren't just for school kids in the city as organisers have taken their mission to rural communities where mental health and suicide are all too common.
Posting a photo to their Instagram account, a teenage farmer who wakes up every day at 4am to get cracking on another hard shift on the land had his nailed painted.
The social media site said: "For the lads, the Australian stereotype of stoicism, toughness and hard yakka fits their lifestyle, it is needed for their survival. But what is also important, for all men, is emotional range and the ability to switch out of that stereotype depending on the situation.
"As we left the workshop, it moved me to tears shaking hands with some of the toughest and roughest farming hands, calloused throughout, and see the nail polish on the other side. ⁠
"Challenging the 'Man Code' isn't about throwing away the great parts of the Australian stereotype, but instead expanding it."
Tomorrow Man run loads of different exercises and workshops that all attempt to get to the heart of why men feel the way they do. While some people might not enjoy the methods, others find it really liberating to finally talk about their feelings.