£24,000 Raised For Waitress Who Passed Note To Boy Who Said Parents Abused Him
More than $32,000 (£24,000) has been raised for a 'hero' waitress who saved a young boy from his allegedly abusive parents after sending him a message during her shift at a restaurant in Florida asking if he needed help.
The 11-year-old boy was reportedly covered in bruises and looking underfed when he arrived in the Mrs Potato restaurant in Orlando where waitress Flaviane Carvalho works.
So, she flashed a note at him while his stepfather and mother weren't watching asking if he needed help, and when he nodded, she called the police.
The police have now confirmed her actions may have saved the boy's life. One senior officer described the boy's abuse as more like 'torture' and described in detail the horrific allegations against his guardians.
Now, the restaurant's manager has set up a GoFundMe page for Carvalho after they were inundated with well-wishers wanting to pay thanks to her. It smashed the $10,000 (£7,359) target quickly and passed $27,000 yesterday (16 January). Now more than $32,000 has been raised.
However, it's not about that for the waitress. She's just happy that the young boy is now safe.
She said: "To me what I did was something normal, natural so I never thought about that.
"I'm glad because now the boy is safe and I hope people use this fact to be couraged [sic] to step up when someone is in need."
Police have also confirmed that a trust account has been set up for the children involved in the case.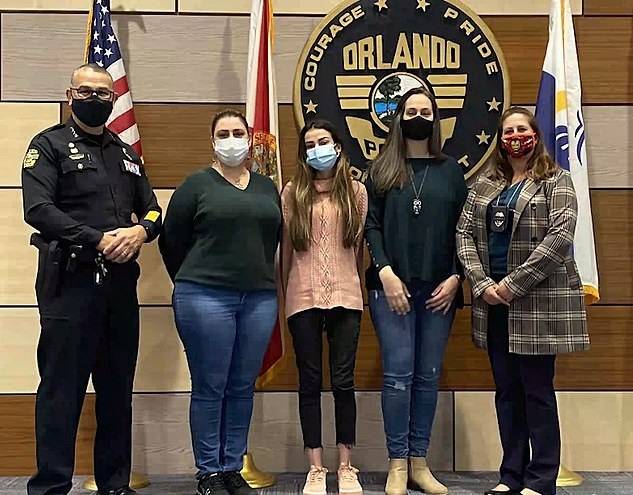 On the GoFundMe page, manager Rafaela Cabede wrote: "Kindness is not something that necessarily needs to be rewarded. That being said, any support will always be welcomed and greatly appreciated, especially for someone that works in one of the industries most affected by the pandemic, restaurants."
The boy's stepfather Timothy Wilson has been charged with multiple counts of child abuse and child neglect, and the youngster's mother Kristen Swann has been charged with two counts of child neglect for allegedly knowing of the abuse but failing to seek medical help for her son.
Police Chief Orlando Rolón told local TV channel WESH 2 News: "We probably would have been talking about a potential homicide investigation if she [Carvalho] had not intervened when she did."
Orlando Police Detective Erin Lawler added that the boy was underweight and had bruises on his arms, and even on his eyelids and earlobes.
At a press conference, she said: "If Ms Carvalho would not have said something when she saw it, that little boy would probably not be with us much longer.
"And 'abuse,' I say lightly. It was torture, to be completely honest, that this child had received at the hand of his stepfather."
The boy reported that he'd been tied up by his ankles and hung from a door, as well as being beaten with a broom, fists, and a back scratcher.
He also reported being handcuffed to a moving dolly.
Carvalho's suspicions were peaked not only by the boy's bruises, but also by the fact he was not receiving food at the restaurant while his parents ate. She was told he would be given dinner at home.
It was later alleged his parents would withhold food from him and forced him to exercise as punishment.
Rolón concluded: "That child was destined to be killed.
"That's how severe the injuries were. That's how horrific the recollection of the abuse the child shared with us was."
The Sentinel reports that donations for the children involved in the case can be mailed to: COLE, SCOTT & KISSANE , P.A. Trust Account; c/o The Northern Trust Company; 600 Brickell Avenue, Suite 2400; Miami, Florida 33131; Attn: Michael Villasana; for the benefit of the minor children of Wilson/Swann.