Elderly Buffalo Protestor That Was Shoved To The Ground By Police Suffered Brain Injury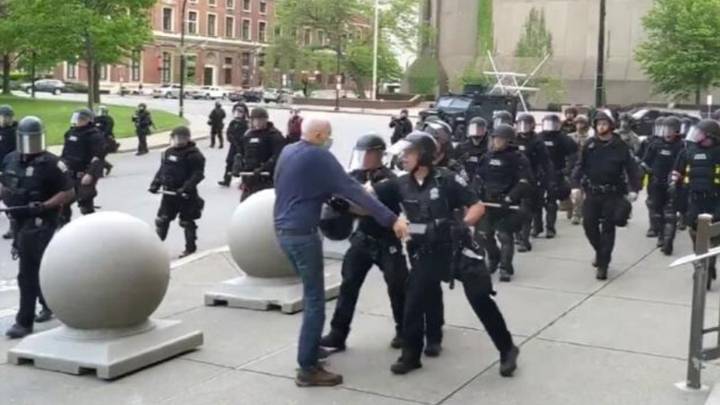 Martin Gugino had been protesting at a peaceful demonstration in Buffalo, New York, when he was shoved by an officer, with video footage of the incident showing him falling to the floor and hitting his head on the ground, blood pouring from one ear.
Gugino was taken to hospital with severe injuries, with lawyer Kelly Zarcone telling WNBC-TV that his brain has been affected and he is 'starting physical therapy'.
"As heartbreaking as it is, his brain is injured and he is well aware of that now," Zarcone said in a statement on Thursday.
"He feels encouraged and uplifted by the outpouring of support which he has received from so many people all over the globe. It helps. He is looking forward to healing and determining what his 'new normal' might look like."
LADbible has contacted Zarcone's office for any further comment.
Shocking footage showed Gugino approaching a line of officers in Niagra Square before being shoved, falling and hitting his head on the ground, with blood pouring out of his ear.
One officer could then be seen stopping to check on Gugino, but he was urged to move on by other officers.
The Erie County DA's Office continues to investigate the incident captured on video outside City Hall that resulted in the injury of protester. The victim was taken to ECMC to be treated for a head injury. He was unable to provide a statement to investigators last night.
- Erie County DA (@DAErieCountyNY) June 5, 2020
Gugino is involved with the Western New York Peace Center and Latin American Solidarity Committee, and the center's executive director Vicki Ross described him as a 'peaceable person'.
She said: "I can assure you, Martin is a peaceable person. There is no way that he was doing anything to accost or hurt. He made a judgement to stay out after the curfew because he feels that our civil liberties are so in danger, which they most certainly are."
It was originally reported by police that the man had 'tripped', but after footage of the incident began to circulate on social media, Buffalo Police Commissioner Byron Lockwood suspended the two officers without pay.
A total of 57 police officers then resigned from the emergency response unit in solidarity with the suspended officers.
John Evans, the president of the Buffalo Police Benevolent Association, said the police had resigned because they believe the officers who were suspended were 'simply doing their job'.
According to Buffalo News, he said: "Our position is these officers were simply following orders from Deputy Police Commissioner Joseph Gramaglia to clear the square.
"It doesn't specify clear the square of men, 50 and under or 15 to 40. They were simply doing their job. I don't know how much contact was made. He did slip in my estimation. He fell backwards."
The Governor of New York, Andrew Cuomo, condemned the officers involved, describing the incident as 'wholly unjustified and utterly disgraceful'.