It's Been Six Years Since 'Mushy's Emotional Speech On 'Educating Yorkshire'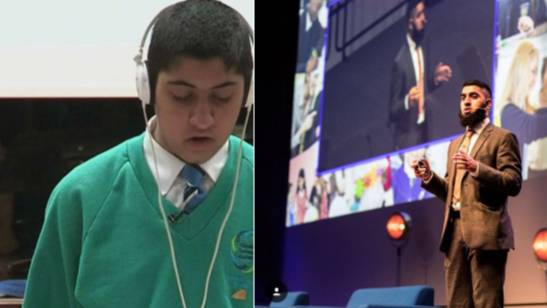 It seems like only yesterday that TV viewers got a severe punch in the feels, as one young boy overcome his stammer with the help of a dedicated teacher on the hit Channel 4 show Educating Yorkshire.
Fast forward six years and that young man, Musharaf 'Mushy' Asghar, is now 22 years old and has a new career as a motivational speaker.
Mushy was a schoolboy at Thornhill Community Academy when he left viewers trying to hold back floods of tears as he delivered a brave speech to his year group.
In a birthday tweet Mushy tapped into our collective addiction to nostalgia, looking back on his time as part of the show:
Today I officially turn 22 YEARS OLD! Which means 6 YEARS AGO I was part of Educating Yorkshire. Thank you to everyone for the consistent support over the years. pic.twitter.com/zc1bs1IeMz
- Mushy (@MusharafAsghar) September 18, 2018
Along with the tweet he posted two pictures for comparison - one of his younger self, wearing headphones as he learned to overcome his speech impediment, and one of him now, speaking confidently on stage.
Mushy, who still lives in Dewsbury, has been giving talks to groups of schoolchildren and sixth formers this year, based around the key message that hard work and taking risks can bring success in life.
He decided to focus his energy on public speaking after dropping out after his first year at Bradford University.
WATCH: Mushy's emotional speech on Educating Yorkshire

He told the Examiner: "Hopefully I can make it my career. I recently spoke at a sixth form, at Ryburn Valley High in Halifax. And before that I was speaking at Leeds City College.
"The main point I try to get out is about adversity in life and how to overcome it.
"With help from friends and family, you can overcome adversity. It doesn't matter what problems you have, hard work really can pay off. I can show that with my own experiences."
He says he still has ongoing struggles to fully overcome his lifelong stammer - which he initiallyreceived help with from his teacher - but show that hard work can pay off.
After all he's been through - even receiving further help for his stammer after school - Mushy has become somewhat of a role model for youngsters in a similar position to himself.
He's also really happy to use his influence to give credit to his hometown.
He said: "I feel Dewsbury is a nice place. I know Dewsbury and the community. It's a good community."