This is the shocking moment a gunman was tackled by a church pastor as he waved a gun in the air in front of the congregation:
The viral clip shows pastor Ezekiel Ndikumana lunging towards the man holding the weapon - called Dezire Baganda - as people watched on in horror.
He has also been hailed a hero following the incident, which took place on Sunday afternoon (7 November).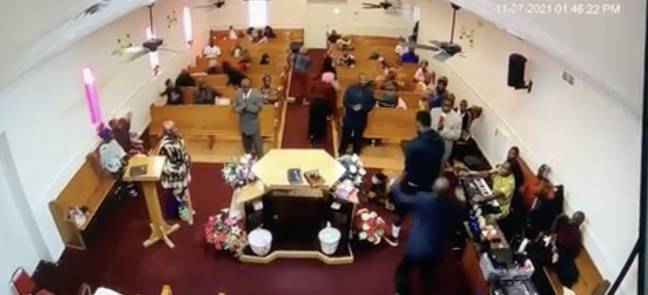 According to a police report, 26-year-old Baganda was sitting at the front of the church when he pulled out a gun and walked up to the alter where the pastor was praying with several members.
Baganda told everyone to get up while he waved and pointed the handgun at the congregation. The pastor quickly tackled Baganda before any shots were fired.
Several church members jumped in to assist in disarming Baganda and holding him to the ground until officers arrived on scene.
Dezire Baganda, the man accused of pulling a gun during Sunday's service @ Nashville Light Mission Pentecostal Church, is now facing a total of 57 cts of felony agg assault; 42 new warrants were issued today. No shots were fired; a pastor tackled Baganda & held him for officers. pic.twitter.com/q0Pctqnp9D
- Metro Nashville PD (@MNPDNashville) November 9, 2021
While Baganda was not a member of the church, the pastor said he had attended services before.
Baganda is charged this afternoon with 15 counts of felony aggravated assault. Multiple counts are expected to be added at the first of the week
In a later tweet, the Nashville Police Department explained how Baganda will now face a total of 57 counts of felony aggravated assault.
Speaking to WKRN, pastor Ezekiel Ndikumana said: "I would say that God used me... I felt a feeling that I would go and grab him and that's what happened."
He added: "God wanted to show that he is a powerful God but one main thing I said - we had faith."
Nzojibugami Noe spoke to The Tennessean and explained that 'God was taking care of me and everyone else in the building'.