​Nike Executive Resigns After Report Details Son's Trainer Resale Business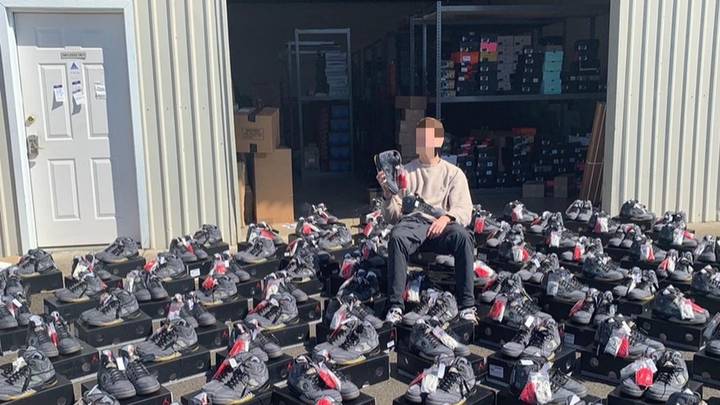 A top Nike executive has stepped down after more than two decades with the company, following allegations that her son made a huge profit purchasing and reselling trainers for his own business.

A recent Bloomberg report revealed details of a shoe resale company run by the 19-year-old son of Ann Herbert, formerly vice president and general manager of Nike's North America division.
In a press release issued on Monday, Nike confirmed that Herbert resigned six days after the report was published, saying her resignation is effective immediately.
Their statement said: "Ann Hebert made the decision to resign from Nike."
According to Complex, she had been a Nike employee for 25 years.
An internal email viewed by the outlet read: "Ann Hebert, VP/GM, North America geography has decided to step down from Nike, effective immediately.
"We thank Ann for her more than 25 years with Nike and wish her well."
Her departure comes just days after a Bloomberg article focused on her son Joe Herbert, and his resale company West Coast Streetwear.
According to the Bloomberg report, which was published on 25 February, Joe used online bots to purchase 600 pairs of the limited Adidas Yeezy Boost 350 Zyon trainers within seconds of the product being released on the Yeezy Supply website - which uses a digital lottery to limit sales to one pair per customer.
However, he reportedly used specialised computer programmes such as Cybersole, Kodai, and GaneshBot to outsmart the website - in turn splashing out $132,000 in just one morning, with the credit card he used in his mother's name.
After selling the trainers on, he is said to have made a $20,000 profit.
Joe told Bloomberg that he never received inside information from his mother, such as discount codes. He also asked that she not be mentioned in the article.
A Nike spokesperson also told the outlet that there was no affiliation between Nike and West Coast Streetwear.
The spokesperson said: "There was no violation of company policy, privileged information or conflicts of interest, nor is there any commercial affiliation between WCS LLC and Nike, including the direct buying or selling of Nike products."
According to Fox Business, Nike has said it plans to announce a new heard of its North American geography to replace Ann Herbert 'shortly'. However, it did not disclose when this will be.
LADbible has reached out to West Coast Streetwear for comment.