Plastic Has Been Found At The Bottom Of The World's Deepest Trench
A submarine crew has pulled off a stunning achievement by descending to the lowest depth ever recorded.
The explorer dropped to a mind-bending 10,928 metres below sea level in the Mariana Trench, the lowest part of our ocean. It was 16 metres lower than the previous record, which was shockingly set in 1960.
Naturally, everyone wants to know what's down that far.
While there were a few weird or creepy looking sea creatures, there was a discovery the team made that was surprising: plastic.
Yep - sadly our waste has been found at the bottom of the deepest part of the ocean.
The man who was inside the submarine, a retired naval officer and Texas-based investor Victor Vescovo, said there was a plastic bag, an angular piece of metal and another plastic object with writing on it.
"It was very disappointing to see obvious human contamination of the deepest point in the ocean," he said.
In slightly better news, the expedition found three new species during the dive, including what the ABC calls a type of long-appendaged amphipod and a stalked ascidian.
Chief expedition scientist Dr Alan Jamieson said: "It is not often we see something that is so extraordinary that it leaves us speechless.
"Amongst many other rare and unique observations, the stalked ascidean was a really significant moment."
During the dive, which was one of four in the area, the submarine collected samples from the ground floor, which will be analysed to see if it holds the answer to some scientists' questions.
While these are cool assessments, it's still pretty heartbreaking to know that plastic waste has made it nearly 11 kilometres from the surface to the bottom of the ocean.
People were similarly disheartened when news broke that plastic was being found in Belize's iconic Great Blue Hole.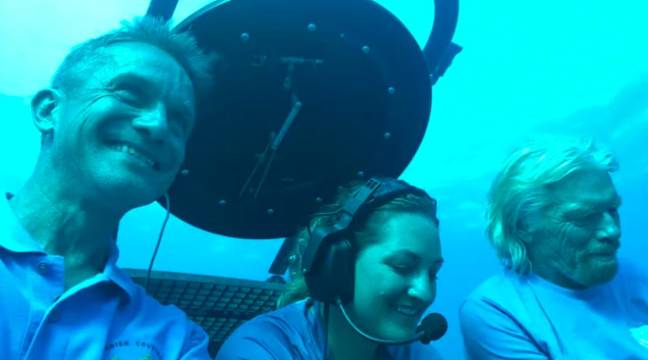 Located on the Mesoamerican Reef, the world's second largest sinkhole is just under 1,000 feet wide, more than 400 feet deep and is recognisable as a giant dark blue circle amid the glistening aqua waters of its surroundings.
In a bid to uncover what lurks at the bottom of this enigmatic natural wonder, business magnate Richard Branson took part in the first ever deep dive to the bottom. And no he didn't find hidden treasure.
The reality of it is truly depressing - Branson and the team discovered plastic waste. If ever we needed evidence that the issue of plastic pollution is out of hand, this is it.
"Sadly, we saw plastic bottles at the bottom of the hole, which is a real scourge of the ocean. We've all got to get rid of single-use plastic."