Aussie Taxpayers Have Forked Out $100,000 For Cassie Sainsbury's Legal Fees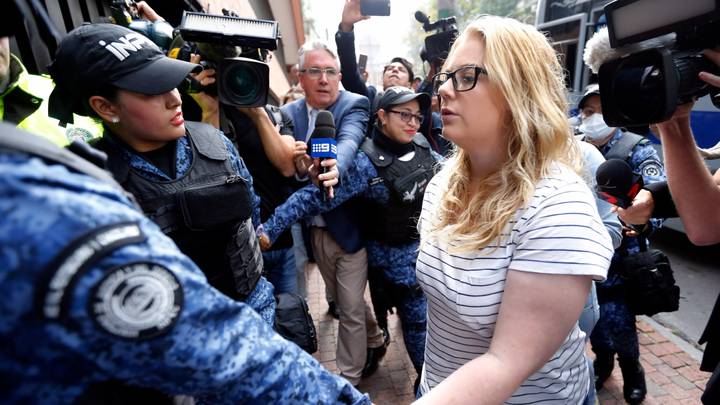 Cassandra Sainsbury has been sentenced to six years in a Colombian jail after she was caught trying to smuggle 6kg of cocaine out of the country in April. The judge accepted the 22-year-old's plea deal and revealed she could be released in two-and-a-half years for good behaviour.
But it's since been uncovered that the taxpayer will foot her extortionately large legal fees, which amounted to $100,000. As a part of her sentencing, Cassie was also fined $130,000, which she will have to pay on her own.
Immigration Minister Peter Dutton told Sunrise in July: "Obviously like any Australian that's in trouble overseas, there will be consular assistance. Ultimately though the warning needs to go out, as we've seen in Bali and as we're seeing now with this case as well, people need to abide by the laws of that country.
When asked whether Aussies would pick up the bill, he said: "No, not at all. It'll be an issue for her."
It's understood she'll receive the funding for her legal fees because she was staring down the possibility of 30 years behind bars in Bogota's El Buen Pastor prison. Government assistance kicks in for any Australian when they're facing serious charges which could result in 20 years or more in jail.
Other drug smugglers like Schapelle Corby and Bali Nine members Andrew Chan and Myuran Sukumaran also had part of their legal bills paid for by the Aussie taxpayer.
Sainsbury's lawyer, Orlando Herran told the waiting media outside the court: "The judge manifestly felt that people who undergo this process are victims. Victims of deceit, victims of their own socio-economic conditions and victims of ignorance regarding Colombian law.
"Her story should serve as a warning, an example to other people considering whether to do these things. The Colombian judicial system is well structured and it takes into account people's particular circumstances. The fact that she was threatened was an important consideration in the plea deal.

"The investigation has uncovered a larger operation and investigators suspect she was used as bait to distract the authorities whilst other people smuggled drugs out undetected."
Ms Sainsbury was arrested before trying to board a flight from Columbia to the UK, after an X-ray machine found cocaine in packages of headphones. She changed her story several times when interviewed by authorities.
It's understood that teaching English while in prison will be marked as 'good behaviour' and advance her bid for an early release.