A tenant from hell has trashed an apartment with 8,000 beer cans, rotting food and a toilet piled four feet high with waste. You can see the horrific mess in the video below:
If you were to compare the mess in the video to looking like a 'pigsty', you're probably doing a massive disservice to those pigs.
Many of us are guilty of maybe leaving the dishes for a couple days or we might forget to take the bins out, but this is absolutely on another level.
Freddie Gillium-Webb, 29, is the wastewater management expert that was given the task of cleaning up the two-bedroom, one-bathroom flat in the Andover area of Hampshire.
After a year of trashing the place without paying any rent, the tenant finally left and Freddie was left up against a mountain of trash.
Freddie said: "As soon as I walked through the door there were beer cans everywhere and the smell was terrible.
"He clearly didn't use the bin at all because the kitchen was full of food waste and in the living room there were half eaten kebabs and mouldy loaves of bread all over the floor."
The living room was piled with so many cans of beer that you can barely see any furniture, while spiders had started to swipe cans and lift them up into their webs.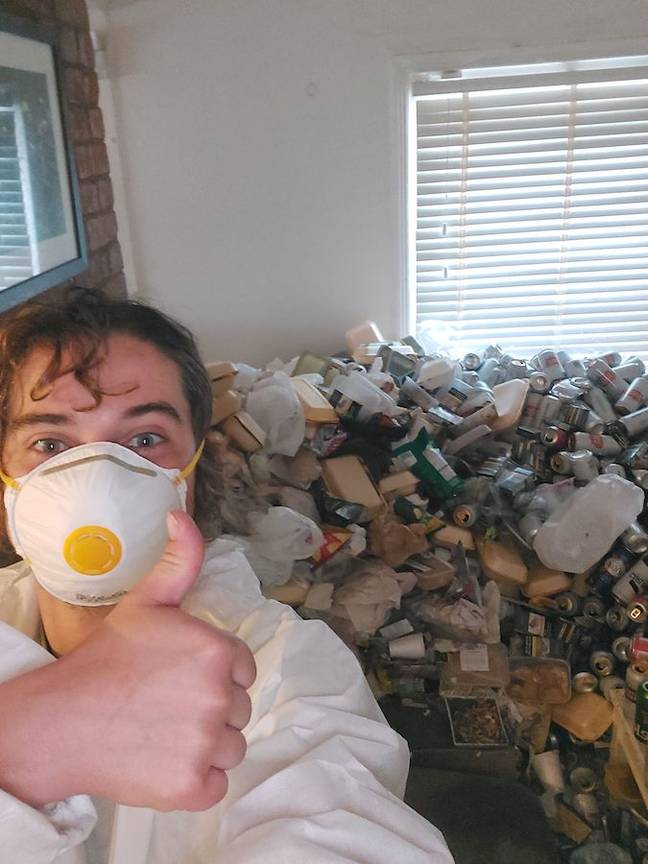 Once stepping into the bathroom, it soon became clear the toilet had never been flushed.

A huge pile of excrement had been carefully piled up towards the ceiling, creating a four foot 'leaning tower of poo-sa' in the air.
He added: "The toilet was piled high with toilet paper and faeces, it was disgusting. He'd never flushed it by the looks of it.
"The clean-up was just never ending. After the first day it didn't even look like I'd made a difference."
Despite his strong stomach from working with sewage, the disgusting waste and overall smell of the flat was enough to make him vomit three times during the clean-up.
He said: "It had to have been like that for a while because it was really bad. He was just living in it and topping up the mess."
However, the cleaner somehow managed to fight through it and eventually tidied up the tip.
Freddie continued: "I think I went through about 100 big bags and ten bottles of bleach.
"Because I work in wastewater I don't heave or throw up very easily but cleaning that mess up I must have gagged about 20 times and was sick three times."
Featured Image Credit: Kennedy News and Media
Topics: Beer