One of the natural wonders of the world is disappearing faster than scientists predicted as climate change has caused bleaching to occur.
Research carried out by the University of Queensland said the loss of certain corals means that populations of inhabitants such as fish are reduced as well as sea food productivity.

Study co-author Professor Terry Hughes, of the University of Queensland, Australia, said: "We found the number of small, medium and large corals on the Great Barrier Reef has declined by more than 50 percent since the 1990s.

"The decline occurred in both shallow and deeper water, and across virtually all species - but especially in branching and table-shaped corals.
"These were the worst affected by record-breaking temperatures that triggered mass bleaching in 2016 and 2017."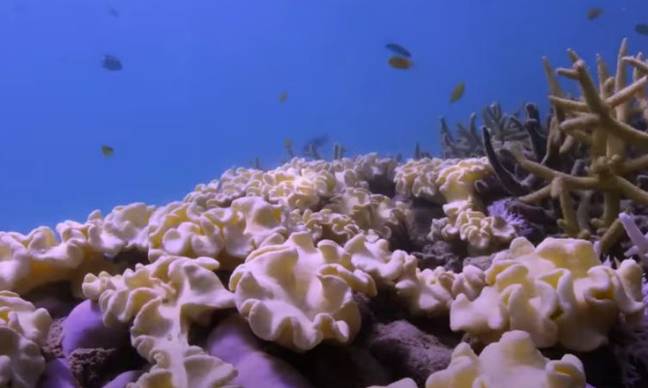 He explained: "We measured changes in colony sizes because population studies are important for understanding demography and the corals' capacity to breed." The research showed a depletion of coral populations between 1995 and 2017.
The authors of the study say better data on the demographic trends of corals is urgently needed.
Dr Dietzel continued: "If we want to understand how coral populations are changing and whether or not they can recover between disturbances, we need more detailed demographic data: on recruitment, on reproduction and on colony size structure."
Prof Hughes added: "We used to think the Great Barrier Reef is protected by its sheer size - but our results show that even the world's largest and relatively well-protected reef system is increasingly compromised and in decline."

The authors concluded by saying: "There is no time to lose - we must sharply decrease greenhouse gas emissions ASAP."
You can check out LADbible's campaign aimed at gaining The Great Barrier Reef, the world's largest living organism, Australian citizenship here.
On 8 May 2019, we contacted the Australian Department of Home Affairs to make The Great Barrier Reef a living, breathing Aussie citizen.

Why would we do that? Well, by making The Great Barrier Reef a citizen of Australia, she'll be protected by key Australian rights and freedoms: the right to the highest attainable standard of physical health; freedom from torture or cruel, degrading or inhuman treatment and punishment;the right to maintain your own means of subsistence; and the right to life.