Mike Tyson Shares Explosive Training Video Ahead Of Roy Jones Jr Fight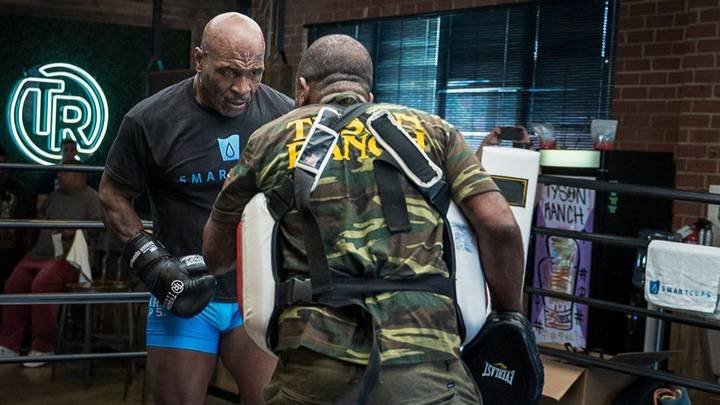 Mike Tyson served another reminder that he's still in remarkable shape by sharing another training video in which he damn near takes the head off his trainer.
Tyson, who was the youngest ever heavyweight world champion when he took the title in 1986, is currently getting himself into shape for a charity bout against four-weight world champion Roy Jones Jr in November.
The ways things are looking, Jones Jr had better be prepared when it come to that fight at Dignity Health Sports Park in Carson, California.
The 54-year-old 'Iron' Mike Tyson was seen in a new video training with Rafael Cordeiro - who has trained 15 world champions over his long and successful career - on the pads.
However, as the pair work the pads Tyson appears to get a bit of that old bloodlust back - you know, the one that saw him enjoy huge success, as well as massive controversy - and aims a huge right hook a little bit too high.
Mercifully, the veteran trainer was able to get himself out of the way quick enough. Still, the man who was once known as 'The Baddest Man on the Planet' looks like he'd give younger men a run for their money in this condition.
It's only a short clip, but you can see that Tyson still has the explosive speed and power going for him, and has obviously been missing precisely zero gym sessions.
Now, Tyson retired professionally in 2005, but has long maintained that he'd like to fight in exhibition matches.
In April this year, Tyson admitted to rapper TI that he'd been back on the bags and training once again, with the intention of getting back through the ropes.
He explained: "I think I'm going to box some exhibitions and get in shape,"
Then, on The Dan Patrick Show, he doubled down and said that the punishment of boxing is what he still enjoys the most.
He said: "My definition of fun is broken eye sockets, broken jaw, broken ribs. That's fun to me."
Well, Roy Jones Jr will be ready for him, and has explained to Sky Sports that he knows exactly what he has gotten himself into.
The 66-9 fighter said: "He's still Mike Tyson, he's still one of the strongest, most explosive people who ever touched a boxing ring.
"If anything, I made a mistake going in with him. He's the bigger guy, he's the explosive guy. He's going to have all the first-round fireworks, not me.
"I do have first-round fireworks, but he's known for more first-round fireworks than anybody to ever touch boxing, other than maybe George Foreman. With him having the first-round fireworks, he'll be against a guy smaller than him, maybe 40, 50 pounds smaller than him."