Artist Brings Henry VII To Life By Digitally Restoring His Death Mask
A graphic artist has used Henry VII's death mask to bring the late king back to life in an amazing digital restoration.
Photograph expert Matt Loughrey runs My Colourful Past, a project that's dedicated to 'bridging a gap between history and art' by restoring and colourising archive images of historic people.
Loughrey, whose Instagram page has more than 21,000 followers, recently decided to use technology to modernise the image of Henry VII, who was King of England from 1485 until his death in 1509 - having seized the crown after defeating Richard III at the Battle of Bosworth Field, the last major battle of the Wars of the Roses.
As a starting point, Loughrey used the king's death mask - a type a wax mask that was used to preserve someone's likeness after they had died.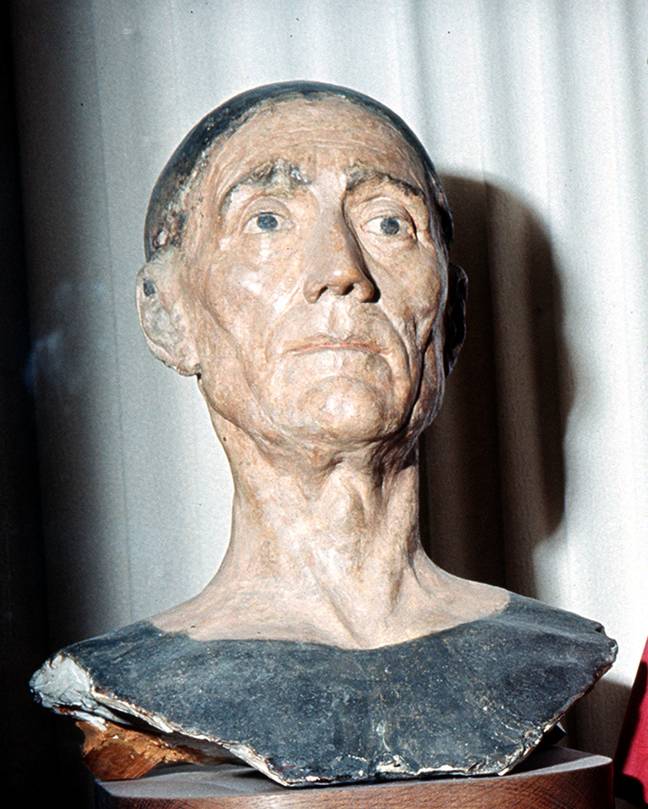 As photographs were not around at the time, these masks were considered to provide more detail than a painting or illustrations may have done.
But Loughrey has brought Henry VII's into the 21st Century, digitising it to add colour and even more detail.
For instance, while the original mask showed a clean-shaven king - a sign that he may have had facial hair removed after his death so that the wax could be more easily applied - Loughrey decided to add a beard onto the image, in order to make the appearance more in keeping with that of most men at the time.

Along with Henry VII, Loughrey has also created facial reconstructions from the wax masks of other historical icons, including Mary Queen of Scots, George Washington and Oliver Cromwell.
He's even built on the masks of much older figures, including earlier versions that ancient Egyptians used for mummified pharaohs like Tutankhamun.
Loughrey, who set up My Colourful Past back in 2015, told LADbible: "I've been restoring and coloring photographs for the general public for a very many years.
"One recent client is screen actor Jeff Bridges who received my restored and colored image of James Butler Hickok (whom he coincidentally played in the 1995 [film Wild Bill])."
He continued: "My Colourful Past has also fast become a way to defend against image obsolescence in a world of advancing display formats.
"It enables museums and archives to repurpose their holdings, particularly in terms of education across all media. The proprietary hardware and techniques in place also permit escaping the confines of photography and give us the ability to visit centuries ago to some of the faces that defined history, death and life masks are a perfect vehicle for this.
"The bottom line is education but outside of this it's all about families being able to see their relatives as they truly were, in detail and with great realism.
"I've gotten to read a lot of stories about the persons I bring to life for others and it's a driving force as to the social value and importance of this work."