All Of The Lockdown Rule Changes Coming Into Place From 12 April
Back in February, Prime Minister Boris Johnson outlined the government's plan to reopen England and get the economy moving once again.
As opposed to previous lifting of restrictions, the rules will change uniformly across England, with the entire country benefitting from relaxed measures.

From 8 March, we have been allowed to meet up with one other person from outside our household to socialise (rather than only to exercise, as before), while from 29 March, the rule of six was reintroduced, with outdoor sports recommencing too.
Well, the next set of changes are due to come into force from 12 April, with pubs set to open for takeaways and outdoor seating, allowing us once again to meet up in small groups for a pint.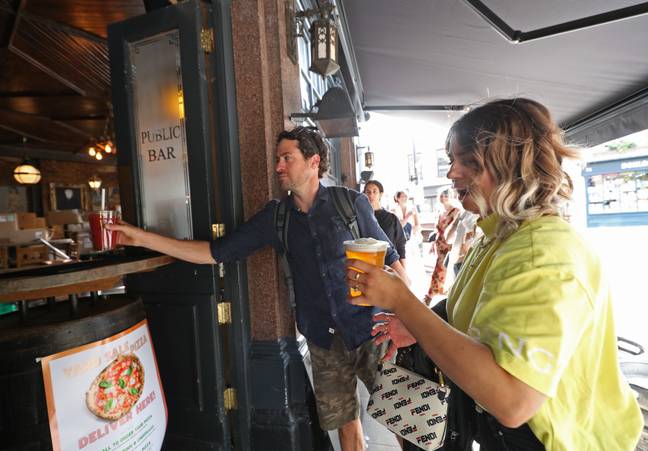 Pubs, bars and restaurants with outdoor seating will be able to reopen once again, with people allowed to meet up in groups of six or two households.
However, everyone who visits one of these venues will have to sign into the NHS's Test and Trace app.
Takeaway pints will also be permitted under the new rules, meaning punters can pick up a pint in a plastic pot and take it with them.
Establishments will also no longer have to require customers to order a 'substantial meal' with their drink.
All shops, hairdressers, and outdoor attractions like zoos and theme parks will be allowed to resume business.
Retailers are expected to continue to urge customers to shop alone and they will be allowed to stay open until 10pm.
Fitting rooms will also be available to customers after more than a year of having been closed due to the pandemic.
Customers will be expected to leave 'several minutes' between one customer coming out of a cubicle and them entering.
From 12 April, all gyms, swimming baths and leisure centres will be allowed to reopen.
People will only be permitted to go alone or with people from their household, as indoor socialising is still banned.
Saunas and steam rooms will remain closed and sports classes will not recommence yet.
Domestic travel will be permitted from Monday, with people allowed to book self-contained accommodation such as Airbnb, campsites or cottages.

Again, only people from the same household will be allowed to stay with each other, as mixing indoors is still banned.
Hotels and B&Bs will remain closed.

Weddings and civil partnerships will be allowed to take place, with receptions also permitted.
The maximum number of attendees for both will rise from six to 15.
Funerals will remain unchanged in terms of the numbers of people allowed to attend, with only 30 permitted.