Extinction Rebellion Protester Breaks Down Holding Photo Of His Kids
As Extinction Rebellion protests continue in London, a demonstrator has been filmed breaking down in tears while clutching a photograph of his children, saying he fears for their future.
The man was lying on the road by a hearse, which contained a coffin mourning the loss of 'Our Future' and was being used by the group to block access to Trafalgar Square.
When asked what his name was, the man told the camera: "I'm just a father of two children. I'm just very frightened of their future."
He went on to explain his kids are aged four and 10 months, as he reached to grab a photo of them, saying: "These are my children. I'd do anything for them."
The unnamed man then started to break down in tears, sobbing as he clutched onto the picture, before someone reached down to hold his hand.
He continued: "I'm doing this because I accept the fact of climate breakdown and what that means. And I'm doing everything I can to help those three demands of Extinction Rebellion - the total truth, to commit to zero carbon emissions by 2025 and do what's necessary, and set up a people's assembly and determine how we achieve that."
The Extinction Rebellion protests are calling for urgent action on climate change, with the Metropolitan Police saying there had been a total of 319 arrests in relation to the demonstrations as of this morning (8 August).
Officers were deployed through out the night across several sites in central London. There continues to be a 24 hour policing plan in place.

As of 00:01hrs this morning there have been 319 arrests in relation to the Extinction Rebellion protests.
- MPS Events (@MetPoliceEvents) October 8, 2019
Several celebrities have even taken part, including actor Sir Mark Rylance, who joined the roadblock in the Mall.
Rylance told Extinction Rebellion protesters at St James' Park: "People have been saying to me, it doesn't make a difference having a celebrity joining the protests.
"But I want people to know climate change protesters aren't hippies. I am confident these protests are going to lead to a solid change."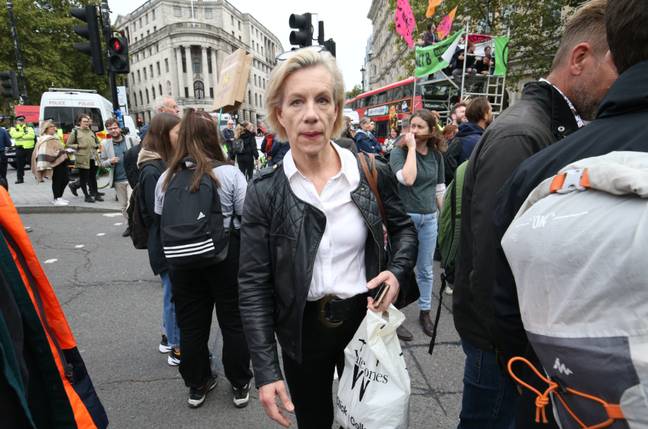 Others included comedian Ruby Wax, model Daisy Lowe and actor Juliet Stevenson - who said she was glad to see so much engagement from young people, adding her own son was also involved in the protests and part of Extinction Rebellion.
Speaking to PA, Stevenson said: "It's a very wonderful action today. We can't any longer allow governments to do this so we have to make it clear that there is no more time.
"There's a long tradition in this country of people saying governments are not acting, we have to make them realise how urgent this is."