​Man Captures Snap Of 15ft Shark Leaping Into Air Off Devon Coast
You'd probably expect to see a few semi-interesting sights on a boat trip off the coast of Devon - we're talking seagulls, some jellyfish or two and maybe - if you're lucky - a seal or something. Perhaps some lobsters or mussels if you're near a good rocky outcrop.

But one boatload of tourists can beat all of that, having spotted a massive 15ft thresher shark leaping into the air before their very eyes.
While normally found in warmer waters, the 350lb shark was seen jumping out of the sea off Lyme Bay in Devon.
It apparently slapped its long tail - which it often uses to stun fish - onto the surface, in an amazing moment that was caught on camera by tour guide Dr Tom Brereton.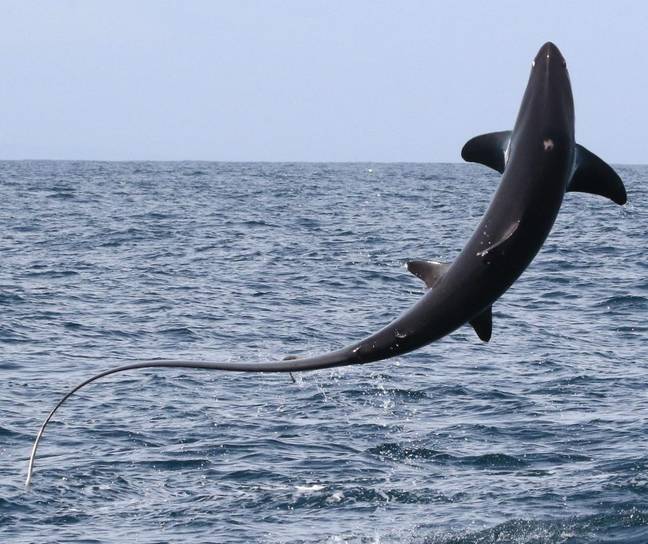 He managed to get two snaps of the shark in action before it crashed back down into the waves.
Brereton, of Naturetrek, which organised the tour, said: "We were on a Naturetrek wildlife trip into Lyme Bay looking for dolphins, whales and seabirds.
"It has already been an interesting year in Lyme Bay with sightings of minke whale, Risso's dolphin, basking shark and ocean sunfish as well as the more usual common and bottlenose dolphins, so expectations were high.
"Then in the deeper waters about 25 miles out I saw a big animal leaping clear of the water 200 metres ahead of the ship."
He added: "Seeing the shark leap out of the water really was a surreal and breathtaking experience."

While Brereton and the folk on his tour must have been pretty surprised by their chance encounter, at least they weren't faced with not one but FIVE sharks - as some fellow Brits recently experienced in New Zealand.
Back in April, tourists Jason Hillyard, Mark Slaughter and Sally Cobban were on holiday in the Bay of Islands, New Zealand, when they decided to charter a private boat and go fishing one afternoon. Sounds lovely, doesn't it?
They'd enjoyed a pretty successful day, catching 10 kingfish and a snapper, meaning all was going swimmingly. Until, unexpectedly, the trio were approached by about five sharks - who decides that the humans shouldn't keep their impressive haul all to themselves.
One grey reef shark attacked the kingfisher that Mark had hooked and thrashed around with it in the water. The aggy shark then ate half of Mark's fish before swimmingaway from the boat.
It then decided to finish the job, returning to eat the rest of his stolen feast, much to the audible surprise and shock of the Mark and his friends.
"[The sharks] were straight in to pinch our catch," said Jason. "They just tore these kingfish apart like butter."