It's here, it's finally bloody here. Those cold winter months that seemed to stretch on for eternity appear to finally be behind us as the UK is being bathed in that beautiful, warm sun.
Some of us might have got a bit too eager yesterday when temperatures were well into the 20s and got a bit burned, but can you blame them?
Today is supposed to be even more glorious in some parts of Britain but unfortunately, it's not all good news.
In a statement, it says: "Thursday and Friday have the chance of localised high pollution levels near east coasts of England, with isolated pockets also possible in busy urban areas in southern and eastern England.
"Areas of moderate air pollution are expected across southern parts of the UK, with more isolated moderate levels in the North, mainly close to coasts."
As a result, anyone with heart problems or breathing difficulties should avoid strenuous activities like exercise or gardening. If you're finding it tough to breathe then consider staying indoors, which is hard when the sun is being this lovely, but oxygen is more important than vitamin D.
It's also going to be a shitty day for people with hay fever as the pollen count is forecast to be High nearly everywhere in the UK.
The Met Office said: "On sunny days, the pollen count is highest in the early evening and that's when you are most likely to suffer from hay fever symptoms.
"The most effective way to prevent hay fever is to avoid exposure to pollen but this is almost impossible, particularly during the summer months.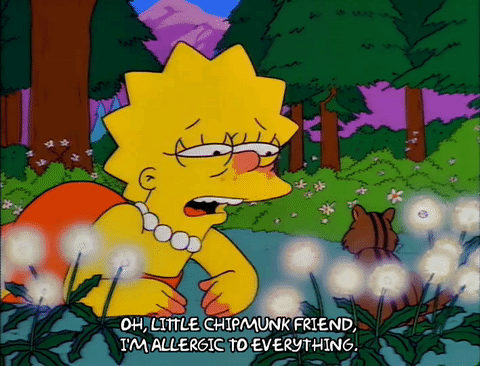 Image result for simpsons hay fever

"Instead, many people rely on antihistamines, which can prevent the allergic reaction from happening, and corticosteroids, which reduce any inflammation and swelling caused by the pollen allergy."
While you're out sunning yourself, keep in mind that the UV is forecast to be Moderate today and could give you a nasty burn.
Some might be waking up today in some serious need of aloe vera after spending a few too many hours in the beer garden or accidentally falling asleep in the park.
It's just nice to finally have some sunshine and warmth after a particularly awful winter.