Restaurant Owner Gives Brutal Response To 'Rude' TripAdvisor Reviewer
Ever written a scathing online review of a restaurants? Poor service or a bad experience can make a furious response seem like a righteous, important way of taking control of the situation. But, of course, the anger usually subsides as soon as you're back home through the door and everything falls back in the 'can't be arsed' file.
However, one online user, under the handle 'Helen E', thought her experience at Manchester's Hispi was so terrible, she felt the need to leave a blistering attack of the restaurant on TripAdvisor, the restaurant and hotel review site.

As she explains in her review, Helen E rolled up to Hispi with her gang and ordered champagne (£90 a bottle) and a bottle of red wine, priced at £120. Plush.
However, it transpired that one of her group prefers their wine with a drop of lemonade in. Bit odd, but alright. You do you, mate.
The restaurant only had cloudy lemonade and so the party requested that, since they were forking out that much cash on expensive booze, one of the restaurant's employees should nip out to the shop and buy a bottle.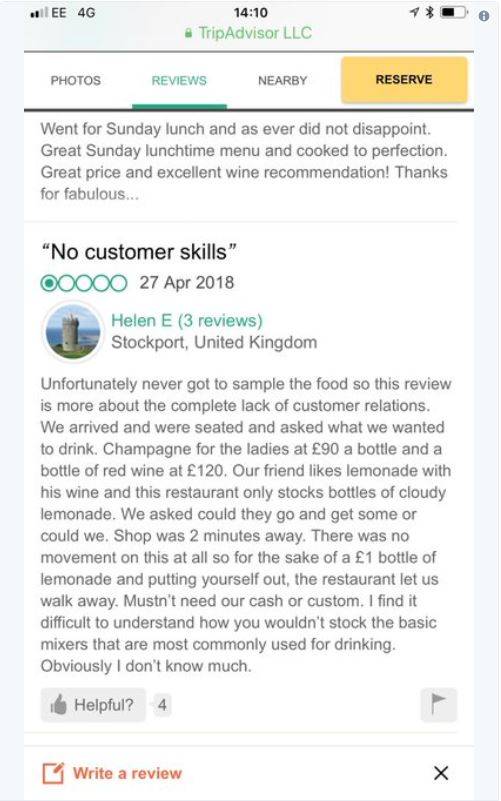 In news that will shock precisely no one, Hispi refused, so Helen E and her gang left angry (and presumably hungry).
In an online review titled 'No customer skills', she wrote: "There was no movement on this at all so for the sake of a £1 bottle of lemonade and putting yourself out, the restaurant let us walk away.
"Mustn't need our cash or custom. I find it difficult to understand how you wouldn't stock the basic mixers that are most commonly used for drinking. Obviously, I don't know much."
Only trouble is, this restaurant's owner was equally displeased with Helen E and her posse. Owner Gary Usher took to social media to deliver a withering response to the unhappy customer, with a series of scathing tweets.
His first tweet, under the handle @StickyWalnut, said that his staff were actually happy to go to the shop to get her mate's 'dreadful red wine spritzer and 20 B&H', but they decided not to because they 'didn't like' them. Ouch.
But he wasn't finished there. Gary then tweeted a second time confirming Hispi's stance on running around on errands for customers, posting: "We often nip out for people's requests. It's part of great hospitality. We just don't do it if you're a rude c***."
OOF. Might be best to bring your own lemonade next time.