Pilot Caught Climbing Through A Cockpit Window At Heathrow Airport
It's such a horrible moment when the realisation sets in that you might've locked yourself out of your house or car.
To be fair, we've all been there. But one pilot went that step further when he'd been locked out of the plane and had to climb into the cockpit. Check it out in the video below.
The unnamed pilot was caught on camera trying to squeeze his way through the cockpit window in order to gain access to the aircraft.

In the video - filmed looking out on to Terminal 2 at Heathrow Airport - the pilot can be seen in a pretty awkward position with one leg already through the open window and the rest of his body outside the plane.

This is all while trying to balance himself on the plane and the platform that he had used to climb up.
When the platform started to shake slightly, it was back to square one for the pilot who, clumsily, tried to climb back in.
Another member of the crew eventually shuffles up to help while he reached inside the cockpit window, it seems, to get the keys.
The video was posted on Twitter by someone claiming to be a British Airways pilot under the username @JonnyPilot.
In the caption, he said: "When you're running late for work and you forget your keys..."
The footage showing the pilot's dangerous stunt has been viewed more than 12,000 times and received lots of comments before it was taken down.
One person asked: "Excuse the maybe obvious question, but do aircraft have keys?"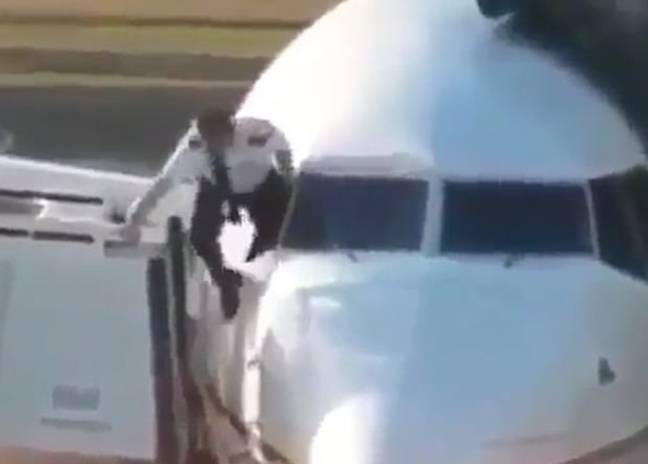 Another questioned: "I'll venture to say that's only done when the bulletproof door gets locked, and you can't remember the code."
"That looks very uncomfortable," a third pointed out.
This comes after pilots faced a major backlash after attempting to perform the 'Kiki Challenge' next to a moving plane.
In a video, that racked up more than 50,000 views, the pilot can be seen in the video pushing a lever before climbing out of her cockpit and down the plane's staircase.
She then joins a woman, reported to be her flight attendant, on the ground and starts dancing alongside the plane as it moves forward.
The Kiki Challenge - also known as the #InMyFeelings challenge - usually involves people jumping out of their cars and dancing to the Drake banger that inspired it.
It was a huge viral dance trend that swept the internet throughout 2018.