A photographer on safari in Africa managed to capture the bizarre scenario as a lioness 'adopted' a young springbok antelope and cared for it as one of her own.
The photos show the huge lion playing with the tiny antelope and even protecting it from some others in her pride - who presumably had slightly less gentle intentions for the poor thing.
A guide in the Etosha National Park in Namibia told photographer Gordon Donovan that the lioness had her own cubs, but they were killed when a new dominant male joined her group.
Her motherly instincts have clearly not died, and she now lavishes her attention onto the young (and presumably terrified) springbok, whether it likes it or not.
Professional photographer Donovan said: "It was a bizarre yet stunning sight to behold. I was excited about the lions, and when she captured the springbok I was waiting for the kill.
"But it never came and started cleaning the calf. That's the mysterious way of nature, never knowing what will happen next. Then she protected her adopted springbok cub from the other lions. These are the moments I seek when I go to Africa."
Sure, it's a cute scene, but there could be a darker side to this whole story. The likelihood is that the two didn't just stumble across each other by accident - springboks are a lion's favourite snack after all.
This situation happens more often than you might think, though.
Craig Packer, director of the Lion Research Centre at the University of Minnesota explained to Life's Little Mysteries: "It's quite common for cats to play with their prey and they can look very gentle doing it. But it always ends in tears.
"These are just variations on the theme of cat-and-mouse, where cats capture their prey and play with it until they either get bored and leave it or get hungry and eat it".
Sorry to be the bearer of bad news, but - as is usually the case with nature - the tiny springbok will probably end up as dinner for the huge lioness. It's just the circle of life.
Speaking of which, lion expert Packer continued: "Nobody follows these things so persistently that they can tell you what happens at the end of the encounter.
"But either way, nature is not The Lion King, with the warthog and all that. This story ended."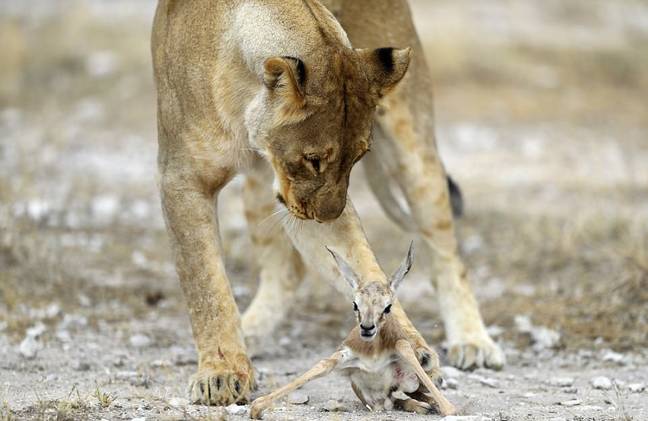 Break it to me gently, mate.