Man Caught On Google Street View Has Clearly Had A Good Night Out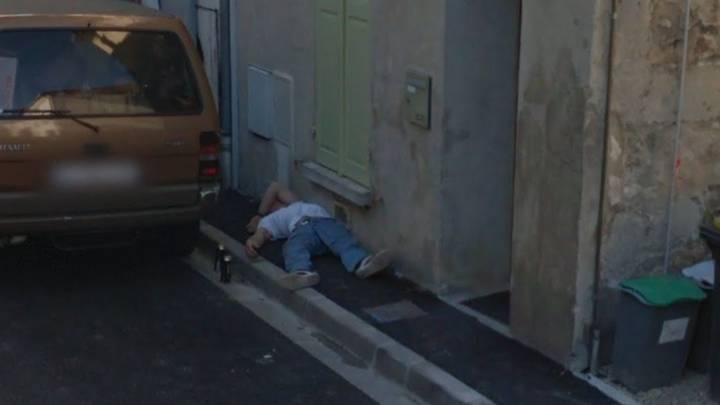 And where do you think would this be shared with the world? Reddit, of course.
Sharp-eyed users of the site clocked this guy, lying on the floor behind a car on a street in Île-de-France (in France, funnily enough). Lying with his hand over his eyes, in a pose that most of us can relate to, he's either still asleep or just contemplating what his next move is going to be.
He's also got his leftovers nearby, with two pint-sized cans of what appears to be Guinness by his side.
And, of course, it's not the first time someone has been caught by the pesky Google camera. Another guy experienced a real low point when some steps on a New York street got the better of him, and guess who was there to document it?
The real-time footage, which has now been blurred out, captured a lad truly who was having a worse day than you.
Just imagine it. You're just going about your day, innocently walking up the stairs to your apartment... next thing you know, you're on your back wondering where it all went wrong, as the Google Maps car drives past.
If you take a closer look at the location of the accident, you'll spot two interesting buildings across the road. The first is 'Diamond Gymnastics' which has images of an acrobat flipping and spinning across the store front, which mimics the man's decent down the stairs.
Perhaps the man was returning home from an intense 45-minute Zumba sesh, which would be enough to turn anyone's legs to jelly. Perhaps there's a well-disguised patch of black ice on the step (seems unlikely, but you never know). Whatever the reason for his fall, he absolutely decks it.
And thanks to the Google camera we get to experience it, frame by painful frame.
But not only does it catch out the unsuspecting public, that pesky camera even drops itself in it - especially when ploughing into innocent animals trying to cross the road.
The devastating last few moments of the animal's life seem to have been caught by the camera mounted on top of the car to record 360-degree street-level images of a country road in Biala Droga, Poland.
The images also appear to show the exact moment the hare makes contact with the front of the vehicle, as it can be seen squashed against the screen. Poor little fella.