Brits cannot spot the 'serious fault' in learner's driving that would cause them to fail their test
Brits are struggling to spot the 'serious fault' made by a learner driver that would cause them to fail their test.
A driving instructor shared a clip of a learner performing an emergency stop and asked viewers if they could spot his error.
DGN Driving School shared the clip on TikTok, captioning the video: "Can you spot the serious fault he made during this emergency stop?"
The school added that the error would have seen the learner fail their test.
The video has been viewed more than 10 million times, and the comments were rife with theories about what exactly he did wrong.
Was it his feet? His hands? The clutch?
Well, we reached out to DGN Driving School, and they kindly offered up an explanation.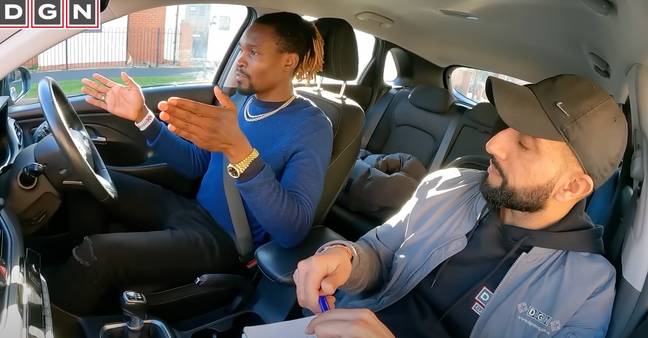 "With the Emergency Stop, the examiner doesn't just assess how you stopped but also how you move off once you have completed the stop," the school told LADbible.
"In Samson's case he stopped well but as he stopped in the normal driving position which was towards the centre of the road, he needs to check both blind spots and all mirrors before moving off, but he forgets to check the left blind spot."
Damn. I would be livid if I failed my test for that.
A video posted on YouTube also shows instructor Pin talking Samson through where he went wrong.
"You stopped pretty well," Pin said. "Don't reach for the clutch first. It's always brake, then clutch.
"Even if you don't put the clutch down and you stall, it's not an issue, because if you press the clutch first it makes you coast a little bit, speed up a bit before you brake.
"So - brake, clutch. That was OK."
He then moved on to the major issue.
"What should you do before you move off?" he asked.
Samson replied: "I should check my blindspot in the mirror."
"Blindspot or blindspots?" Pin asked, before explaining that he needed to check both sides given that he had stopped in the middle of the road.
He added that this would have counted as a serious fault, and Samson couldn't help but go: "Wow."
Chin up mate, not long until you will have passed and you can let everything you have learnt gradually fade from your memory.
I'm just kidding, kind of. Drive safe, folks!