Alan Carr to replace David Walliams as Britain's Got Talent judge
It looks like the chatty man himself Alan Carr is set to replace David Walliams on the Britain's Got Talent judging panel.
But a source close to the hit ITV competition show has now told The Sun that he's emerged as the favourite, stating: "Alan is joining the line-up, it just has to be him he's brilliant.
"The deal is being finalised, but it's details now - and he's totally up for it too. It's the perfect hiring all round."
Another source told the Daily Mail: "Alan is hilarious but also kind. He tells a mean joke but he is also soft in the middle.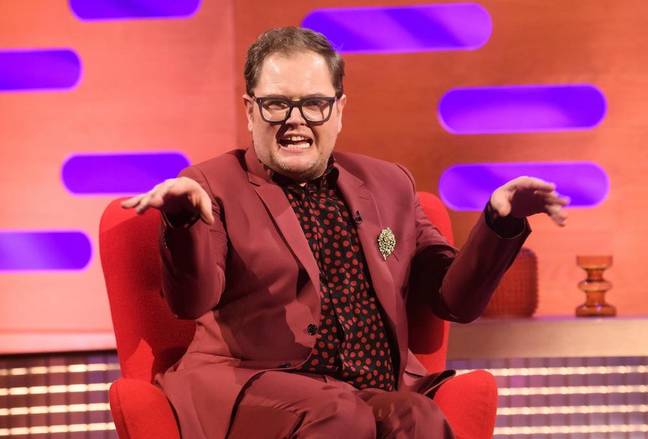 "The bosses are already excited about how wonderful he will be with the contestants.
"He will complement the panel so well too, he is really close friends with Amanda and he has known Simon and Alesha for years too.
"Everyone involved in the show is so excited and they can't wait to get started."
LADbible has reached out to ITV and Carr for comment.
While his departure has not yet been officially announced, a spokesperson for Britain's Got Talent confirmed that the future of the Little Britain star's involvement in the long-running talent show was uncertain.
They said in a statement to the Press Association: "The judging panel for Britain's Got Talent 2023 will be announced in due course.
"It's still very much up in the air at the moment on whether David is going to take part in next year's show.
"No decision, though, has been made as yet."
The news followed recently leaked audio recordings featuring derogatory comments that were made by Walliams at the judge's table during the filming of a previous season of Britain's Got Talent.
The comedian reportedly made the remarks about two separate contestants after they'd left the stage while at the London Palladium in January 2020.
One incident involved an older performer who made a jibe about Walliams while on stage.
After the judges decided not to advance him to the next stage of the competition, the performer left and once he was out of earshot, Walliams reportedly described the man as a 'c**t' three times.
In another incident, he is alleged to have made lewd comments about a female contestant after she'd walked off stage.
He said, "She's like the slightly boring girl you meet in the pub that thinks you want to f**k them, but you don't," before repeating, "She thinks you want to f**k her, but you don't."
The star added: "I know, she's just like: 'Oh, f**k off!' I was saying, she thinks you want to f**k her, but you don't. It's the last thing on your mind, but she's like: 'Yep, I bet you do!' 'No I don't!' I had a bit of a boner, but now it's going, it's now shrivelled up inside my body."
Lawyers for both Walliams and Thames TV - BGT's production company - argued to the outlet that the star's comments were not intended for broadcast and were part of a private conversation.
The Little Britain star said in a statement: "I would like to apologise to the people I made disrespectful comments about during breaks in filming for Britain's Got Talent in 2020.
"These were private conversations and – like most conversations with friends – were never intended to be shared. Nevertheless, I am sorry."