Mila Kunis And Ashton Kutcher Vow to Match $3 Million in Donations for Ukrainian Refugees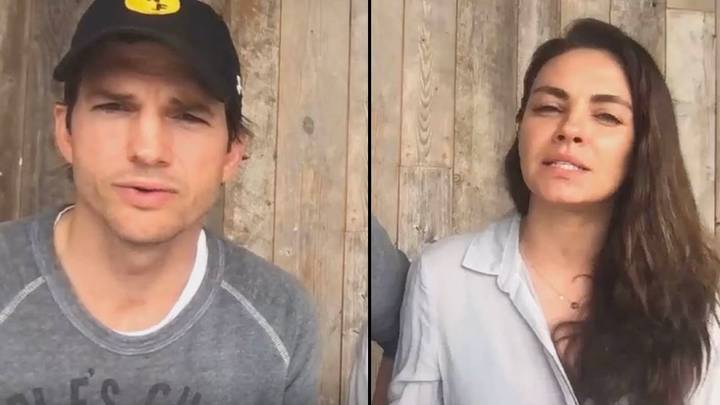 Mila Kunis and Ashton Kutcher today pledged to match up to $3 million (£2.3 million) in donations to support refugees fleeing Ukraine following Russia's invasion on 20 February.
The married couple launched a 'Stand With Ukraine' GoFundMe page with the aim to raise $30 million (£23 million) for organisations providing help to Ukrainians on the ground.
Mila Kunis and her Jewish family fled Soviet Ukraine to the USA in 1991 before she made her TV debut seven years later aged 14.
She said in an Instagram post: "I have always considered myself a proud American. I love everything this country has done for myself and my family.
"But today I've never been more proud to be a Ukrainian.
"The events that have unfolded in Ukraine are devastating.
"There is no place in this world for this kind of devastating attack on humanity."
Kucher said: "While we witness the bravery of the people of the country that she was born in, we're also witness to the needs of those who have chosen safety."
Freight transporter Flexport and non-profit Airbnb.org are the two organisations Kucher and Kunis's fundraiser donations will be going towards.
Flexport organises shipments of relief supplies to refugee sites across eastern European countries, including Poland, Romania, and Moldova.
Airbnb.org provides free, short-term housing arrangements for refugees escaping the conflict.
Kucher said: "The principal challenge right now is logistics. We need to get housing and we need to get supplies and resources into the area."
Kunis said: "The people of Ukraine are strong and brave, but being strong and brave doesn't mean you're not worthy of support.
"We need to support the people of Ukraine. Please help us."
Hollywood couple Blake Lively and Ryan Reynolds are also raising funds to support those fleeing the Russian invasion of Ukraine.
In a Twitter post last Saturday Reynolds promoted donations to United Nations's refugee agency UNHCR.
He wrote: "In 48 hours, countless Ukrainians were forced to flee their homes to neighboring countries. They need protection."
Reynolds confirmed he and Lively would be matching donations up to $1 million (£756,000).
"When you donate, we'll match it up to $1,000,000, creating double the support," he said.
Featured Image Credit: Credit: Instagram