BBC viewers traumatised after seeing contestant's head explode in 'new Lee Mack quiz show'
BBC viewers were in for a bit of a shock recently as they watched a new Lee Mack hosted quiz show end with a contestant's head exploding.
Last Thursday (18 May), in a change to the usual schedule people were treated to the sight of popular comedian, Lee Mack, challenging three teams of three players in quiz show 3 by 3.
However, things got messy when one of the contestants had her head blown up right as Mack was delivering his final address.
Quiz teams, The Three Tenors and Quiztopher Biggins, had already been knocked out by that point.
This left mother and daughter team, Margaret and Catherine Oakwood, to tackle the final round, with mum Margaret locked in a soundproof booth as they both had to get the right answers independent of each other.
However, after Margaret failed to get the final question correct, the Oakwoods failed to win the big money and that's when things went weird, as Margaret appeared to become trapped in the booth before her head exploded on camera.
Some channel-hopping viewers were left pretty shocked, taking to social media to talk about 'the SHOCK I got when her HEAD EXPLODED' - which is a pretty understandable reaction.
They can at least console themselves with the fact that none of it was real and it was all part of the show.
Regular Thursday night fans will have been aware that they were enjoying the latest offering from Inside No 9, the marvellously macabre series from Reece Shearsmith and Steve Pemberton.
While fans had been expecting an On The Buses tribute episode titled 'Hold On Tight', they instead got '3 by 3', the first episode of Inside No 9 not to feature Shearsmith or Pemberton on camera.
Fans of the series reckoned that 'anyone who hasn't watched Inside No 9 before is in for a nasty shock', as for pretty much all of the episode it played the quiz show tropes completely straight.
Much of this owes itself to Lee Mack playing the role of quippy quiz show host perfectly, with plenty of jokes you'd expect him to make which some viewers were sure he's used on The 1% Club.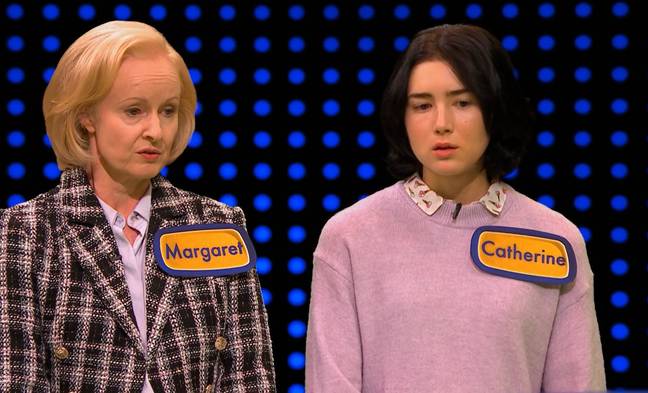 As the episode progressed, it became clear that something was ever so slightly off with the Oakwoods, or more specifically Margaret (Gemma Page) and Catherine (Saskia Wakefield), as cricket-loving dad Stephen (James Tucker) was frozen out early on and never returned.
Catherine seemed to know the answer to every question despite revealing she'd basically no experience with entertainment or much of the outside world.
It's really to everyone's credit that Inside No 9 managed to keep up the pretence for so long, while weaving in so many brilliant clues as to what was really going on, the episode being incredibly rewarding on a rewatch.
At the end the episode there was a homage to the likes of Matilda and Carrie, with Catherine blowing up her mother's head after it was heavily implied her parents had kept her locked up as an experiment.
Mack didn't notice for a bit before all hell broke loose and the film crew fled the studio, with Catherine finally free of Margaret - even if she had to blow up her head to do it.
Here's hoping she made it to New Zealand.
The final episode of season eight of Inside No 9 will be showing at 10pm on BBC Two on Thursday 25 May. All other episodes are available to watch on BBC iPlayer.