Brendan Fraser gets emotional after his movie 'The Whale' receives a huge standing ovation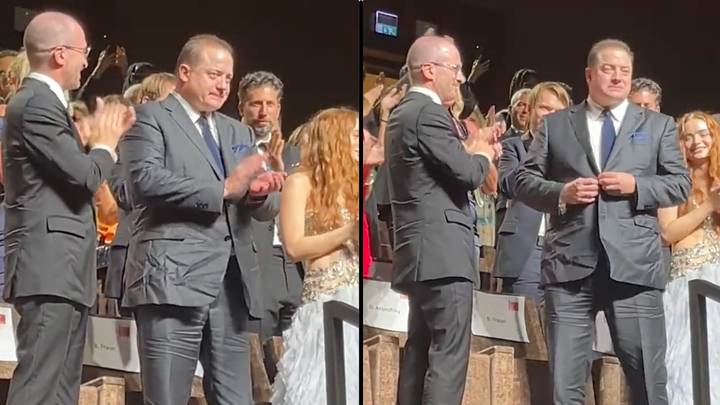 Brendan Fraser was reduced to tears after his film The Whale received a six-minute standing ovation at the Venice Film Festival.
While the actor might have faced a spot of trouble recently thanks to the cancellation of Batgirl, things are certainly looking up for Fraser now.
The film is already generating Oscar buzz, which is pretty epic considering that it premiered only a few short hours ago.
Then again, with Black Swan director Darren Aronfsky at the helm of the film we're not exactly surprised its earning ticks across the board.
The Whale tells the tale of a reclusive overweight English teacher, played by Fraser, who attempts to reconnect with his seventeen-year-old daughter, played by Sadie Smith.
Variety reports that many audience members were visibly moved as the film debuted at the acclaimed festival.
Phoebe Waller-Bridge, Nick Kroll, and Hillary Clinton staffer Huma Abedin were among the crowd and were even spotted shedding a tear or two.
You may have recently seen stills from the flick that have circled the internet, with many shocked at the George of the Jungle actor's dramatic transformation.
He said: "I want to learn from the people I'm working with at this point in my career. I've had such variety, a lot of high highs and low lows, so what I'm keen for, in the second half of my time doing this, is to feel like I'm contributing to the craft and I'm learning from it.
"This is a prime opportunity. I wanted to disappear into it. My hope was that I would become unrecognisable."
"The torso piece was almost like a straight jacket, with sleeves that went on, airbrushed by hand, to look identical as would human skin, right down to the hand-punched hair," he explained to the outlet.
But it looks like the gruelling work has paid off as many critics are praising Fraser's performance.
Writer for BBC Nicholas Barber even called the flick capable of launching the 'Branassiance' writing: "Fraser richly deserves to be nominated for a best actor Oscar, and if that doesn't happen, I won't just eat my hat, I'll eat as many pizzas and cheese-and-meatball sandwiches as Charlie gets through in the film."
Meanwhile, over at the Screen Daily, journalist Wendy Ide fawned over Fraser's on-screen magnetism, calling it the 'best performance' of his career.